tagged:
Greece
,
London 2012
,
Men's Four Coxless
,
Olympics 2012
,
qualified
,
Rowing
,
semi finals
,
Women's LTW Double scullls
Posted by keeptalkinggreece in Sports
Another exciting day for our Greek athletes competing at the Olympic Games 2012 in London. The first good news was the qualification of Greek team of Papachristos/Tziallas/ Tsilis/ Christou in semi-finals Men's Four Sculls Coxless. They ended second in their category with time 6:02.,61 after USA (6:01.72) and before Germany (6:04.61).
Search Results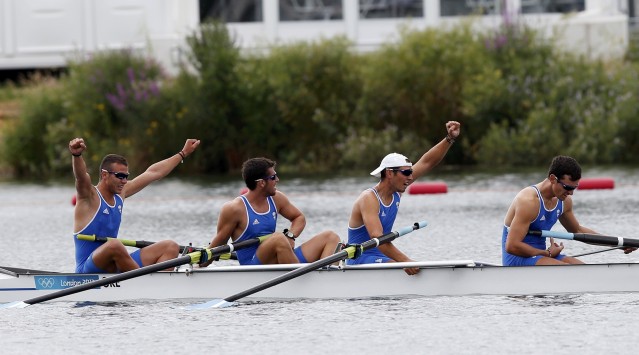 Stergios Papachristou, Yiannis Tsillis, Giorgos Tsialas, Yiannis Christou
Right after the men's semi-finals, another Greek crew qualified for the finals. Christina Giazitzidou and AlexandraTsiavou ended second in semi-finals Women's  Lightweight Double Sculls. With time 07:09.01 The Greek crew came after the UK (7.05.90) and before Germany ( 7:10.16).
LWT Women's Double Sculls Semifinals Results
Heat:
1
2


Giazitzidou/Tsiavou
Rowing finals in the above mentioned categories are scheduled: Womens' Double Scull at 12:00 pm and Mens' Four Sculls at 12:30 pm on Saturday, 4. August 2012. 
Go, Go, Go, Greek Crews! And Keep Rowing!
PS Rowing is one of my favorite sports. Quick and all muscles in full power.