A rare weather phenomenon cheered up austerity-hit Athenians and caused traffic problems in the Greek capital. Billions of snowflakes fell during the night and keep falling not only in the northern suburb of Athens but also in the south, next to the sea.
07:45 am Thrakomakedones
Most of the schools were closed in the city's North and several roads were closed to traffic.
Temperature is expected to remain at 5 degrees Celsius.
Athens municipality opens three municipality halls for the homeless of the city. Last night, social service units distributed blankets and food to the homeless.
Athens municipality established emergency telephone line <1960> for residents of Athens only, where they can seek help or report people in need.
In Piraeus, the major extended the operation hours for seniors day centres (KAPH) to 8 am – 8 pm to offer heated opportunities to pensioners who cannot afford to buy heating oil or turn on the natural gas. Five KAPH centres will remain open 24 hours during the snowy days.
Crete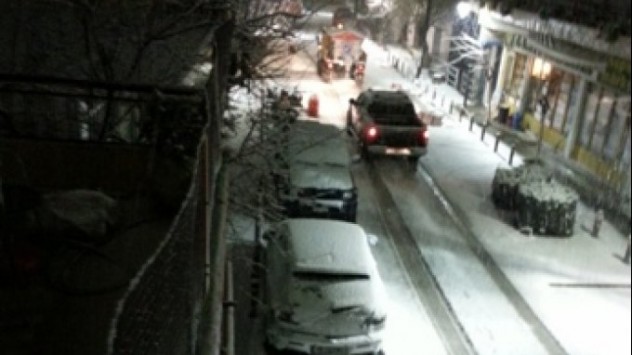 Anogeia, Crete
Snow fell also on the island of Crete where roads were closed to traffic in some areas.
Video: Lasithi plateau
embedded by Embedded Video

YouTube Direkt
 Northern Greece
The lowest temperature was recorded in Nevrokopi (-10 degrees Celsius) in north-east Macedonia, while in some cities in the west temperatures have an average of -5 or -6° C.
A total frost is expected on Wednesday in the north of the country.
The cold weather front is coming from Russia and is expected to last another 24 hours.
Despite the fact that many households cannot afford to heat their homes this winter due to income cuts and tax hikes in heating material, Athenians prefer a "white day" to the darkness of austerity and loan agreements. 
 PS do not forget to put a bowl of food for the strays.