Unprecedented scenes, tight security measures, tension but also tears and kisses accompanied the lifting of the parliamentary immunity of two current and two former Golden Dawn MPs at the Greek Parliament on Wednesday. Two of the GD MPs entered the Greek Parliament in handcuffs.
Golden Dawn MPs Giorgos Germenis and Nikos Michos, and former GD but now independent deputies  Stathis Boukouras and Chrysovalantis Alexopoulos face charges for the illegal possession of weapons and firearms. Alexopoulos also for establishing and managing a criminal organization. They are in custody awaiting trial.
Boukouras and Alexopoulos distanced themselves from the extremist group and regretted having being members of the party.
Ex GD deputy Stathis Boukouras, shed bitter tears in front of the stunned lawmakers from all parties as he defended himself.  The now independent deputy in custody since four months, had started to read his defense from his notes, when in the middle of his speech he was overwhelmed by his feelings.
embedded by Embedded Video

YouTube Direkt
"My children ask me: Father, why are you in prison?" Boukouras said loudly blubbing and continued:  "I have nothing to tell them. What have I done ? Why am I depriving of my family ? What crime have I committed ? I have not offended anyone. … I am not a Nazi. I am a patriot." He said that he manages to come through this situation with the help of psychotropic drugs and revealed that he used to be a supporter of socialist PASOK in the 1980's.
"I come from PASOK. Andreas Papandreou [PASOK founder] turned me into a nationalist. Is this bad? Greece belongs to Greeks, he used to say…" Boukouras said.
While Boukouras was holding his speech his former colleagues from Golden Dawn were mocking at him. But several Independent Greeks lawmakers rushed to comfort him after his speech was concluded.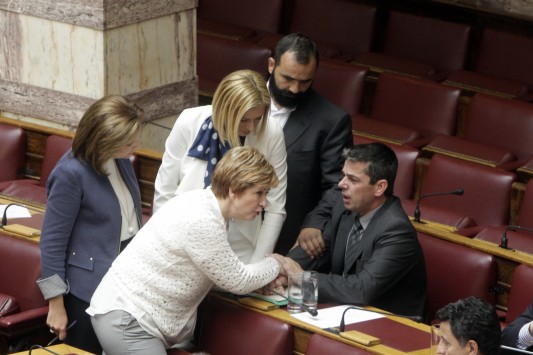 On his part, Chrysovalantis Alexopoulos said he was considering for a while to leave the party but he was afraid of violence against hims and his family. He had left the party last March.
Eleni Zaroulia, wife of GD leader Nikos Michaloliakos, was waving euro bank notes to him, while other GD deputies were shouting to him that he got money to leave the party.
Security measures were very tight, and the Parliament was closed to public for several hours in order to hinder some Golden Dawn members to attend the session which is normally open.
Kisses for Germenis from his GD colleagues.
Criticizing the measure, GD MP Ilias Kasidiaris spoke of "junta."
The majority of the lawmakers voted in favor of lifting the parliamentary immunity of the four. According to Proto Thema, four PASOK MPs voted against in the case of Boukouras, allegedly touched by the emotional outbreak of the former social member.
sources: newsit.gr, protothema, ekathimerini, newsit.gr and others.
Parliament voted in favor of lifting the immunity of two Golden Dawn deputies, Giorgos Germenis and Nikos Michos, and two former GD lawmakers, Stathis Boukouras and Chrysovalantis Alexopoulos, in a tense session on Wednesday.
While Germenis and Michos reiterated their allegiance to the Neo-Nazi party, Boukouras and Alexopoulos, distanced themselves from the extremist group