It's short before midnight at the square of Dafni, a suburb in southern Athens. We are sitting outdoors in a cafe, sipping on our beer, trying to recover from the punch in the stomach after having watched Ken Loach's social drama I, Daniel Blake. We cannot resist drawing the bureaucratic similarities between the UK's and Greece's welfare benefits systems, when the sky starts breaking and pouring down.

Within ten minutes, the tent over our heads is soaked in water, streams keep coming down from the edges, a waiter comes out every once in a while. He is holding a long wooden stick and "beat" the tent so that the water flows away. We drink, chat and watch the world though a thick rain curtain until a sudden gust the tent sides from the holders and a cold shower wets out backs. We stand up with a …scream, grab our bags, cigarettes and the beer glasses and continue to watch the world get flooded.
"It will never end, this cloud doesn't move forward," a friend says and we order a second beer. From time to time, a police vehicle or a fire brigade track would drive through the main street, zealously rushing to its destination.
An hour later the rain storm is over. We pay, stand up and walk to our car parked nearby. We wonder that despite the heavy rain, the streets are clean and almost dry – We congratulate the mayor of the suburb for having cleaned the gutters in time.
In other suburbs of the Greek capital, residents were not that lucky. Basements and shops were flooded, drivers and their vehicles got trapped on streets turned into rivers.
Early in the morning, several metro stations were reportedly closed as they were flooded as well.
The fire brigades received more than 200 calls to pump waters in the broader area of Attica.
Firefighters had to intervene and rescue motorists when their cars were trapped in the waters, even in downtown of Athens, in Kypseli.
Households and shops in downtown Athens, around Victoria Square, 3rd Sepember Avnues and Alexandras avenue (Ambelokipoi) have been without electricity for more than 8 hours as the storm damaged several electricity supply units.
Main road like Piraeos has been closed to traffic due to floods.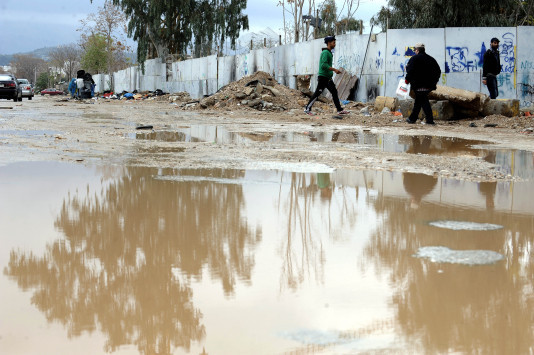 However, the damages in Athens were not as severe when compared to the one the rainstorm caused in Zakynthos, the island of the Ionian Sea.
https://www.youtube.com/watch?v=7FKLFitoOtI
Dozens of houses and shops were flooded, roads were turned into rivers and agricultural land into lakes, with many seniors to have been trapped in their homes.
A 33-year-old man  has been missing. His car was found in a flooded stream in Vanatou area.
Rainfalls continue on Sunday, at noon another rain storm stroke Athens.
The weather forecast predicts polar cold coming from Scandinavia and sharp drop of temperature as of Monday, and snow falls even in downtown Athens on Tuesday-Wednesday.