An amazing young brown bear has the Greek media and the internet cheer. Instead of resting in the fluffy "winter sleep", the young bear decided to take a walk or two on the frozen lake of Kastoria in north western Greece.
The bear first appeared on the frozen lake four days ago and keep local animal protections groups and authorities on their toes for several hours.
Members of the bear protection organization Arcturos, of the local Environment Protection organization and police tried for more than three hours to have the little bear away from the lake and in safety.
With crackers and horns, they tried to have the young bear move away from the lake to solid ground and towards the mountain.
But the young bear had rather fun in mind – or it just  could not fall asleep without his teddy bear…
The bear chased the birds of the lake, jumped up and down, and run on the thin ice, careless and unaware of the risk that the ice could break and present him with a swim in surprisingly ice cold water.
According to state ERT 3, experts estimate the age of the bear at three years old.
It is not clear whether the young bear was seeking food on the lake that has been in frozen state since a month. According to suggestion is is male bear.
"We saw the bear which is around 3 years old, playing with birds and going towards the city. We tried to scare it with crackers and horns, fearing that the ice could break and the bear would be trapped in the icy waters," Nikos Panagiotopoulos, a member of " Arcturos "and the "Environmental Protection Organization of Kastoria" told media.
At first, he bear got rather scared and went to hide behind the reeds. Hours passed, people started to flock in to watch the bear, thus hindering the operation to have it bear move away.

"Eventually, we managed to have the people go away, then we led the bear towards the mountain, it left after four hours, " Panagiotopoulos described the whole operation.
However, the bear returned to the lake two days later.
It was spotted enjoying a meal when an eagle attempted to steal the precious prey: a big fat white swan.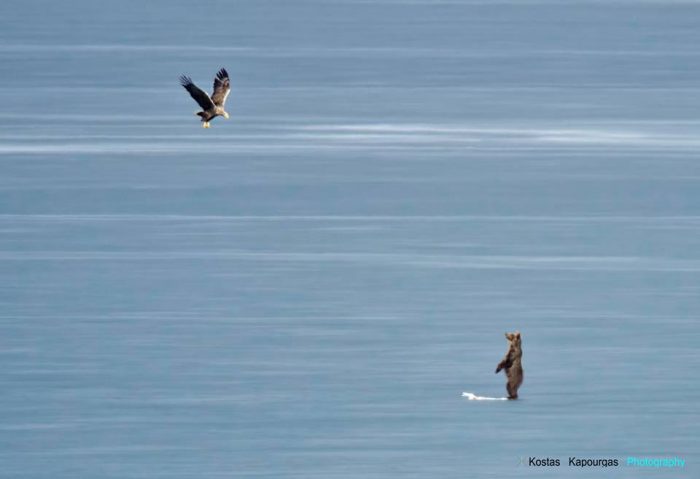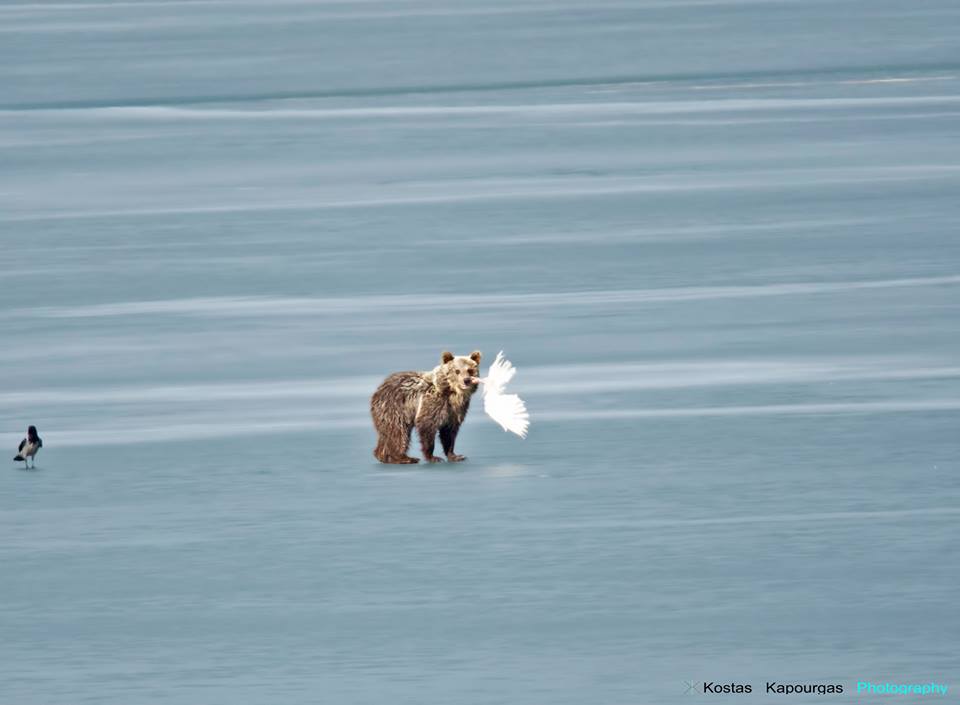 The eagle was chased away by a flock of birds that apparently had an eye on a swan snack.
More amazing pictures by Kostas Karougas here.
It is a question why the bear has not fallen into the deep winter sleep.
Maybe the bear needed indeed his own teddy bear… 🙂