Greek Super League Play-Offs. The football match between Panathinaikos and PAOK was interrupted and ultimately cancelled when players got involved in a brawl and PAOK coach Vladimir Ivić Ivic got injured by a beer can that landed on his head.
Coach Ivic was transferred to a hospital in Athens on Wednesday night after he suffered a head injuries from a beer can a fan threw at him. The beer can was full.
The 40-tear-old coach from Serbia fell on the ground wounded.
He received first aid and then transferred to the hospital for further treatment and stitches.
Video shows the moment the beer can hits Ivic
Άνευ σχολιασμού από τον επίσημο @paofc_. Προφανώς προσπαθούν να ηρεμήσουν τον Μπέργκ. https://t.co/y75zhyjh1iίβιτς_people

— PAOK FC / ΠAOK (@PAOK_FC) May 17, 2017
While at the hospital, Vladimir Ivic was reportedly saying that he could not see properly.
Οι οπαδοί του @paofc_ χτύπησαν στο κεφάλι τον Βλάνταν Ίβιτς pic.twitter.com/Z18HwHayM0

— PAOK FC / ΠAOK (@PAOK_FC) May 17, 2017

The match was interrupted by the referee at 54′ after players from both team brawled with each other.
Tension among players was high already from the first half of the match. Panathinakos had lost one player (Vlachodimos).
According to Greek media, the referee made several mistakes that increased tension in the pitch.
The "bomb exploded" at the 54'h when Crespo kicked Still who was blocking the ball.on the out-of-step kick of Krisp in Style, while the Brit had blocked the ball. Berg pushed PAOK's defender, they fell down together with other players of the two teams, Kulibali slapped Sakhov, the PAOK player hot Ebucu and the situation got completely out of control.
Seconds later, a beer can hit Vladimir Ivic.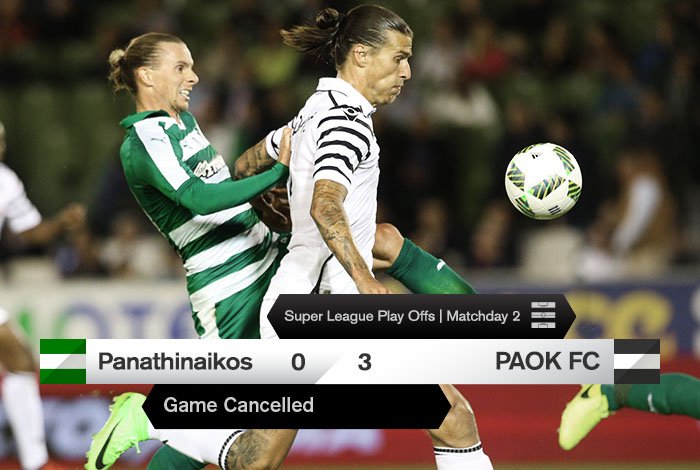 It rained red and yellow cards.
At the end, Panathinaikos was left with 10 players.
Ultimately the match was cancelled.
The score was 1-0 for Panathinaikos.
Host Panathinaikos FC will face loss of points as the match was canceled before it concluded.