Two hobby fishermen have been missing in Mikri Volvi Lake in Halkidiki peninsula in Northern Greece since Sunday morning. The two men, aged 40   and 70, went out to collect the nets despite the bad weather and the strong winds blowing in the area and the lake. When hours later the boat did not return relatives inform the authorities.  Reach teams spotted the overturned boat but no traces of the missing fishermen.
Also divers could not find the two men, an uncle and his nephew . The search operation was interrupted due to darkness, is expected to continue on Monday.
Barometric low Theseus has been striking Greece with heavy snowfall, strong rain-and thunderstorms and intensively blowing winds reaching up to 9 Beaufort. Motorists stranded in the snow, shepherds and workers were trapped in the snow masses, villages remained without power, damages were caused in infrastructure and floods swallowed thousands of acres of agricultural land and hundreds of animals in Central Greece.
The major coastal road in Agios ioanis of Zagoria in Pilion collapsed "due to the rough sea digging the subsoil," local authorities said.
Several rural roads in the area have been flooded due to heavy rainfalls that brought small streams into swelling.
As rainfalls continue in eastern Pilion, snow has been falling on the mountains in the area. In Chania it has reached 1 meter.

A 55-year-old man, owner of a radio station in Volos, was trapped in snowstorm and lost his orientation, when he went to the antennas park in Chania to fix some problem Saturday afternoon. He called some colleague asking for help, a search and rescue operation was success to locate and bring back the man.
Search teams has rescued six workers at the dam of Almyros due to the swelling river. A new operation will be launched on Monday to rescue a trapped shepherd in Neochororaki who was unable to return home due to swelling river.

Several municipalities in Magnisia prefecture has applied to be declared in 'state of emergency'.
Also several municipalities in Thessaly and Trikala have applied for state of emergency as torrential rains falling from Friday, Jan 12, until Sunday, Jan 14, have caused severe damages in land and rural roads and the infrastructure network incl the water supply.
At least ten villages in Kalambaka near Trikala remained several hours without electricity as the bad weather brought down trees  heavy snowfall damaged power columns.
Bad weather and Snow created beautiful scenery around Trikala – Video
Also in the region the same weather problem:
heavy snow falls on the mountains
torrential rains and floods in the lowlands.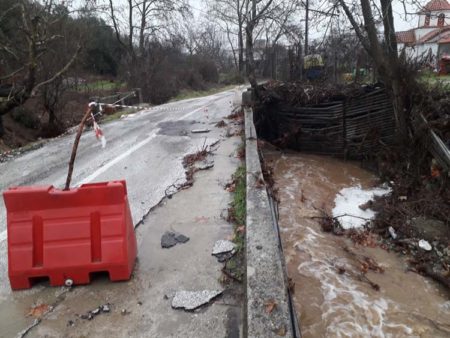 Rain and snow falls have also caused problems in Northern Greece, in Chalkidiki, and the traffic network between Drama and Rodopi.
Snow has fallen above 1000 meters in Parnitha in the outskirts of Athens.
Mt Parnitha seen from a dorne
After a short temporary improvement on Sunday, the weather is expected to deteriorate again as of Monday but temperature may rise again in the middle of the week.
sources: seleo.gr, magnisianews.gr, trikalaola.gr, onlarissa.gr,