With unbroken intensity internet users continue to comment on the Facebook page of IMF head Christine Lagarde – three days after she made her incredible tax-dodging comments about Greeks, and less than 48 hours after she tried to refute her comments. In an interview to British The Guardian uploaded on Saturday morning, Lagarde said that she had more sympathy for the children of Africa than for Greek children of impoverished parents.
   African Queen
"The parents of [Greek] children must pay their taxes" Lagarde said.
The comments triggered an angry outrage not only among Greeks, who wrote comments like these below or simply slammed her. but also among IMF-critics with thorough knowledge of IMF's role in sub-Saharan Africa.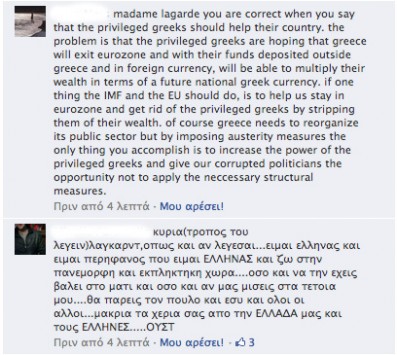 Also IMF-critics with thorough knwoledge of IMF's role in sub-Saharan Africa posted angry comments, while some even remembered her involvement the state she left France as a finance minister.
"There are very few ways one could make such a move even more cack-handed. One could choose, as the vessel of such sentiments, an ex-Finance Minister of a Eurozone country; perhaps someone who left France with its highest deficit in 60 years. One could choose someone currently under investigation for not just one but two cases of fraud in shady financial deals. One could even accompany this interview with a pictorial which showed her dispensing thrift advice, while displaying a deep tropical tan, heavy jewellery and expensively tailored clothes" (New Statesman)
Harsh criticism came from Greek politicians.
Socialist PASOK-leader Venizelos, the former Finance Minister who signed the second bailout package, described her comments as "insult to the Greek people".
Left-wing SYRIZA-leader Alexis Tsipras commented "The last thing we seek in Greece is her sympathy. Greek workers pay their taxes, which are unbearable.
Criticism came also from her fellowmen.
French minister Najat Vallaud-Belkacem told France's Canal+ TV that Ms Lagarde should not have made the comments. "I find (her point of view) rather simplistic and stereotypical. I think that these days it shouldn't be about trying to teach people a lesson," she said.

French far-left politician Jean-Luc Melenchon even said Ms Lagarde should resign over the comments."What gives her the right to speak in this manner to the Greeks?" he said in an interview with France 3 TV. (BBC)
After having received arrows full of poison from left and right, Christine Lagarde wrote on Saturday on her Facebook page:
As I have said many times before, I am very sympathetic to the Greek people and the challenges they are facing. That's why the IMF is supporting Greece in its endeavor to overcome the current crisis and return to the path of economic growth, jobs and stability. An important part of this effort is that everyone should carry their fair share of the burden, especially the most privileged and especially in terms of paying their taxes. That is the point I was emphasizing when I spoke to the Guardian newspaper as part of a broader interview some time ago.
Until Monday 6:55 pm, 21.352 Facebook users had posted comments in several languages and from all over the globe.
Βαγγέλης Μπάρτζης

Ειλικρινά απορώ με την τόσο υπομονετική στάση που έχουμε κρατήσει εμείς οι Έλληνες τόσο καιρό σε όλα αυτά που μας κάνουν…….Εγώ επειδή ξέρω την Ιστορία της Χώρας μου ξέρω τι γίνεται όταν ο Έλληνας τα πάρει και πεί ΟΧΙ άλλο ……… εσύ μωρή πατσαβούρα ξέρεις ????? Προφανώς όχι……καλομελέτα και σου ΄ρχεται …….. και τότε να δεις τι ωραία θα τα περάσουμε…….. Οι Έλληνες με πιάνεται ετσι ?????? χαχαχαχα

Jannis Xatzis

Madame Lagarde the name Tapi make a bell in your ear ? The Bank Credit Lyonnais at 2008,you know the skandal with Bernard Tapi? Oh,sorry i forgot. They are from Nigeria !

Lia Siouti

if you really care more about africa why don't you do something for them? Is it because they aren't really a good investment? Please, do tell us
Comments that also contained heavy insults and words that I woul dbe blush to copy-paste them.
The number of comments is increasing by minute.
Hasn't she lost in terms of credibility? Isn't it high time, she resigns?