Chanting "Thieves", "Liars", "Thugs", "Give us our money back" and hurling eggs dozens of Greek bond holders got out of control when the appointment with Nea Dimocratia secretary, Manilis Kefaloyiannis, was cancelled. The meeting was scheduled for 11 in the morning at the headquarters of the party of prime minister Antonis Samaras.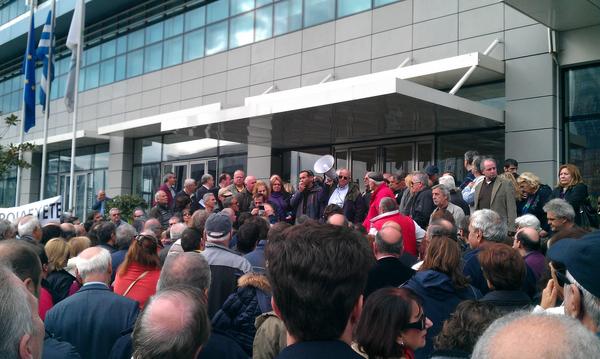 According too Greek media, ND secretary had some other 'duties' and could not meet the frustrated small investors who go from political party to political party seeking a solution to their problem. A problem that had them lose halrf of their savings.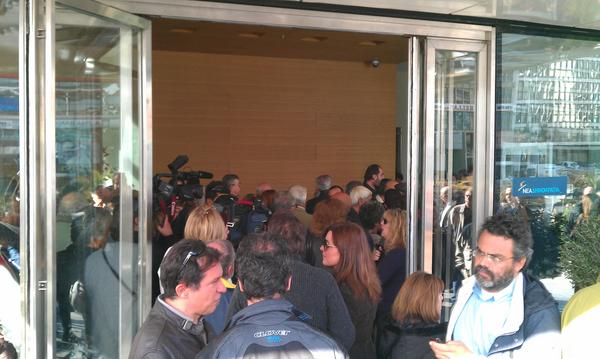 Dozens of small investors, holders of Greek bonds that underwent a 53% 'haircut' in March 2012, demand to be compensated and vehemently oppose the possibility of an additional PSI,  currently under discussion by Greece's lenders.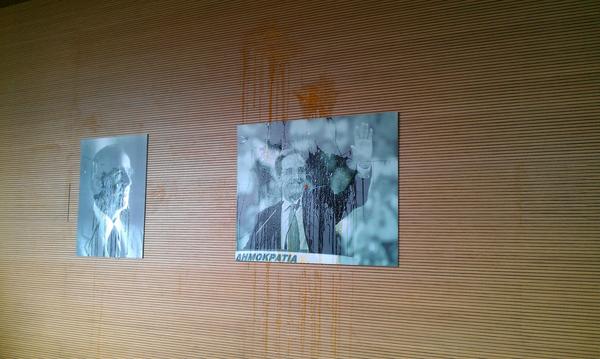 Eggs hurled at the portait of PM Antonis Samaras and ND-founder Konstantinos Karamanlis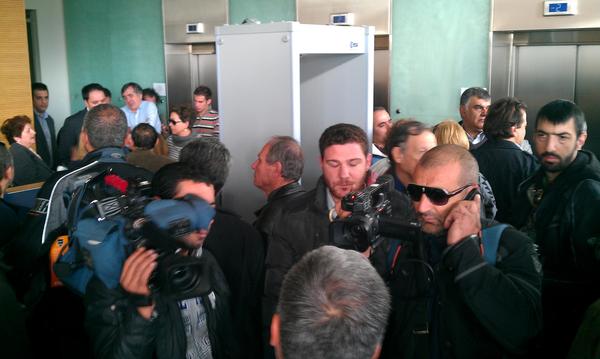 Odd enough there were no riot police squads to take control of the situation. According to newsit, Nea Dimocratia had not asked for police support.
Talking to Greek news portals, the protesters said that they invested a lot of money to buy the Greek bonds; for some it was the savings of a whole life:
"I invested the struggle of a whole life, 110,000 euro, in order to have something when I am in need. I will get 60,000 euro, if I get in the year 2042. " said a woman.
Another investor who spent 400,000 to buy bonds said "They will give me 60,000 from the EFSF until 2014 and then, from 2022 until 2043 they will give me 6,000 euro per month. I sold a house that I had contructed after 50 years of work."
 Video: tension
embedded by Embedded Video

YouTube Direkt
Protesters refuse to leave the ND headquarters until they get an appointment with the prime ministe,r currently in Brussels to attend the EU Summit. A bond holder delegation left for the Greek parliament to meet some ND official.
 It is the second time,t hat the small investors get out of control. On November 14th, they harassed Evangelos Venizelos, the leader of coalition government partner PASOK, when he was heading to an appointment with the governor of Bank of Greece.
pictures and video: @damomac