"Rien ne va plus" on the roulette table of Athens streets as thousands moved to work with their private vehicles. No public transport means left the depot on Friday morning due to solidarity strike of bus, trolley and proastiakos workers to their colleagues of Athens Metro, urban train ISAP and tram who received 'civil mobilization orders'.
 Athens Metro workers spent the night in Sepolia suburb 'occupying' the metro's main depot. A riot police intervention at 3.40 in the morning, open the depot door and forced workers away who did not resist. Three strikers were detained for no reason and later they were released.
More than ten riot police squats have surrounded the metro's main depot in Sepolia on Friday.
So far some 500 civil mobilization orders have been delivered to Athens metro, urban train and tram strikers and allegedly 50 workers have return to work, in order to avoid possible lay-off.
"Civil mobilization order" delivery at Sepolia depot: you got mail
However the number of workers is not sufficient to have the morning shift going. Nevertheless, technical check of the wagons is under way, according to Greek media.
There is a slight possibility that metro lines 2 (Egaleio-Doukissis Plakentias) and 3 (Agios Dimitrios-Agios Antonios) may resume operation late Friday afternoon, however not in the usual schedule.
The civil mobilization orders delivery, a total of 2,500 piece,  is expected to conclude by Saturday afternoon, with the government hoping to have the traffic resumed over the weekend.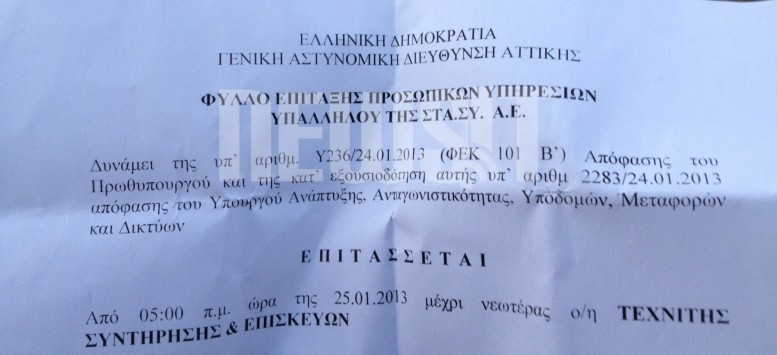 Orders are valid as of 5 a.m. Friday 25/1/2013
Workers at public transport means plan to stage a protest rally towards the Greek Parliament at 1 o'clock noon.
Meanwhile, the management of blue buses appealed to court to declare the workers strike as 'illegal'.
Friday morning: Main streets in Athens turned into into a huge …parking.
Metro workers are on strike for ninth consecutive day.
Bus workers have declared 24-hour strikes until upcoming Tuesday and proastiakos workers until next Monday. Trainose trains will be on strike as of tomorrow Saturday.
More on strike and civil mobilization here.
 sources: protothema, NET TV, zougla, newsit and others