The office of Athens Mayor confirmed today that dog Ruby returned back to the streets near the finance ministry in downtown Athens. "Nelly" will return tomorrow, Friday," the office said on its Twitter account.
Ruby is the black dog on the right
Ruby and Nelly, two of Athens stray dogs were collected by Athens Municipality two weeks ago, after two citizens claimed they were bitten by these dogs.
The case drew the attention of media, websites, blogs and animal welfare associations as Ruby was one of the dogs that had launched an "anti-austerity" barking protest when Troika representatives visited the finance ministry beginning of the month. Furthermore, there were claims that one of the Troika representantives had complaint to finance minister about the dogs.
"Shop owners in the area and volunteers who feed them repeatedly confirmed Roby and Nelly were never aggressive."
Ruby and Nelly were kept under observation in a municipality shelter in Megara, some 50 km away from Athens. On Thursday, a committee decided that dogs showed no signs of aggressivity and should be released back to the streets.
 @Sanna wrote yesterday: "I just heard from one shop owner at Ermou Street that they will bring the dogs back today. I really hope it's true!!! They love Ruby (he even sleeps inside their shop regularly) and have been in contact with the municipality."
Some animal lovers were truly upset and scared as rumors had claimed that Ruby was to be euthanized.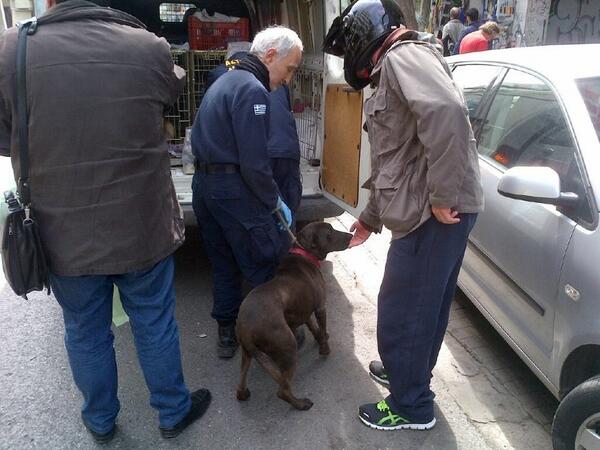 UPDATE: Friday Mar 29/2013: Ruby was released on Thursday, but he was collected again Friday noon apparently from Plateia Karytsi to be taken to Syntagma square. the picture was uploaded on Facebook by a shopowner. Many worried animal lovers demand an answer by the Athens Municipality… but no answer so far.
UPDATE 4:40 pm: Athens Mayor office dismissed this rumor and said the dog was returned to Ermou street/Syntagma.
UPDATE: 5:30 pm: after pressure by concerned animal lovers, the office of Athens Mayor posted pictures of Ruby after being released.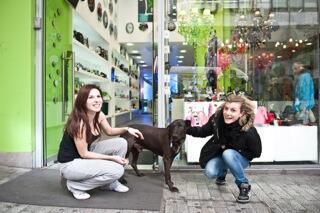 Ruby in Ermou stree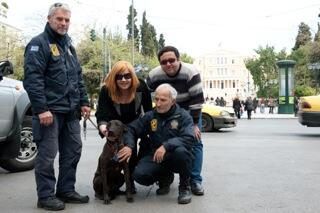 Ruby with municpality team in charge of strays at Syntagma square