Half an hour after midnight and several thousands people are gathered outside ERT to protest the 'sudden death' of Greece's national broadcaster. Fellow journalists, common people but also singers giving a solidarity concert. Inside the ERT premises, journalists and technicians who occupy the studios keep transmitting a live program  commenting on the real unprecedented Samaras' decision to shut down ERT and deprive Greeks of information until September. Journalists have received thousands of solidarity phone calls. Well known personalities from culture and education, singers, actors, academics, writers, left politicians …express their outrage about the sudden closure.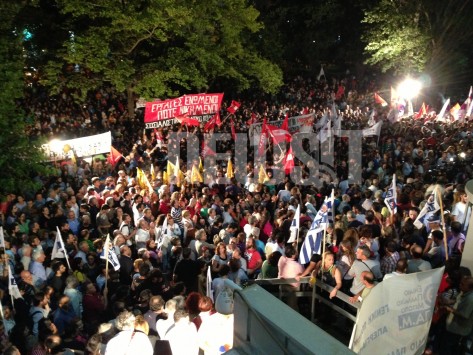 outside ERT
Famous singer Maria Farantouri said that she could not understand this decision and that it reminded her of the "military dictatorship".
The dismissal of 2,656 employees will start on Wednesday.
On Thuesday afternoon, after prime minister's order the government spokesman announced the shut down of all television channels and radio stations of ERT as of midnight. However, as the ERT journalists and reporters had decided to occupy the building and went live slamming the government decision, the minister in charge turn off the lights already at 11:15 pm.
 capturing the screen the moment ERT is shut down
Together with the 3 ERT television channels also BBC, Deutsche Welle and also the Greek Parliament Channel were blackened.
You can see the live stream ERT/NET program here
Is there any other EU member country without public broadcaster? Hellooooo!!!! ???