Emotions were high during the Grand solidarity concert at public broadcaster ERT on Friday evening. 500 musicians from all music ensembles from Athens and Piraeus, the orchestra from Greek National Opera, and of course the overnight-fired musicians and choir members of the ERT Symphonic Orchestra and modern ensembles joined the concert, while thousands of people watched the breathtaking event from giant billboards or via internet live feeds.
video:
embedded by Embedded Video

YouTube Direkt
Fired ERT orchestra musician on live concert: emotions prevail as the violin signals the uncertain future
Beethoven, Mozart, Verdi: the classical repertoire of Greece's orchestras. and the Choir sung "Va pensiero" from Verdi's Nabucco
"Hasten thoughts on golden wings.
Hasten and rest on the densely wooded hills,
where warm and fragrant and soft
are the gentle breezes of our native land!
O, my homeland, so beautiful and lost!
O memories, so dear and yet so deadly!"
fired members of ERT choir
picture via Twitter @Thalion_1
Outside ERT HD: Tango to the tunes of Carlo Gardel's "Scent of a Woman"
picture via @vassiouti (Twitter)
The concert started at 7 o'clock on Friday afternoon lasted until 2 o'clock on Saturday morning.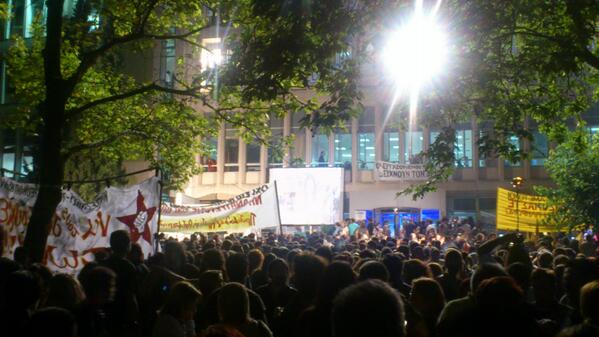 listen to the music … outside ERT (pic via @alepouda)
Concerts will be held also on Saturday and Sunday.
For us, who grew up in before private TV, Radio  and internet times, the public broadcaster ERT is an integral part of our culture. Whether it was the children's-hour, the tunes of music, the culture programs, the professionalism of reporters and presenters. Even the proper language skills and the correct use of the modern Greek language.
Too sad that the governments of the last decades disdained the public good.

Too sad that Samaras gave in to some bad advisers following aggressive micro-political interests
Too sad that some guys in the current government have no culture at all.