Molotov cocktail bombs, streets barricades, tear gas…. angry protesters attacked the police station of Keratsini on Wednesday afternoon hours after the murder of rapper and anti-fascist Pavlos Fyssas by a suspected member of far-right Golden Dawn.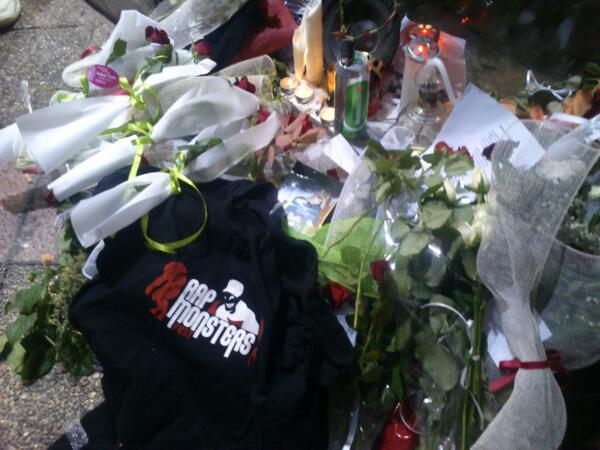 flowers, candles and other items were left on the spot where Fyssas was stabbed to death.
Media report that some protesters started fire in garbage bins and chanted slogans against the far-fight political party.
Tension is still high in the area, right now.
Political party leader harassed
An hour earlier, protesters harassed, swore at and beat in the face leader of Independent Greeks, Panos Kammenos. While the men of his personal security tried to protect him, they were beaten too by the protesters.
Speaking to news website zougla.gr, Kammenos said that he was on foot heading to the spot where Fyssas was murdered in order to lay some flowers. Suddenly a group of protesters attacked him verbally first, then pushed him and hit him on the nose. Kammenos went to a nearby hospital to undergo some checks.
Video: Protesters chase Kammenos
embedded by Embedded Video

YouTube Direkt
Antifa protests across Greece
More than 10,000 people gathered on Wednesday afternoon in Keratsini suburb of Piraeus to protest the murder of Pavlos Fyssas.
Antifa protest in Thessaloniki
Anti-fascists protests were organized also in many Greek cities.
Angry protesters reportedly attacked the offices of Golden Dawn in Patras in Western Greece,  and Chania on the island of Crete.
Video: molotov cocktail at Golden Dawn office in Patras
embedded by Embedded Video

YouTube Direkt
According to latest -but unconfirmed – reports, angry protesters smash shops in Thessaloniki, while molotov cocktails are being hurled in Xanthi.
Pictures and videos from various Twitter sources
UPDATE 10:50 pm
Riots in Keratsini lasted for several hours with angry rioters smashing and destroying the windows of several shops. Some Greek media claim that rioters looted shops.
Police detained a total of 65 people of whom 23 were arrested.
In Thessaloniki 20 people were detained.