The 25-euro hospitalization fee imposed as of 1.1.2014 for patients in public hospitals triggered strong public reaction and a conflict between the coalition government partners conservative Nea Dimocratia and socialist PASOK. The measure voted in 2012 by the coalition government parties is expected to raise 110 million revenues for the debt-ridden Greek state. Of course, tricky conservative politicians like the Health Minister and his team claim that the measure is thought as 'solidarity levy' in order to cover the needs of uninsured patients who seek the public hospitals.
But the bitter truth is one: the measure was enforced by the country's lenders, the Troika, that definitely had not the uninsured patients in mind.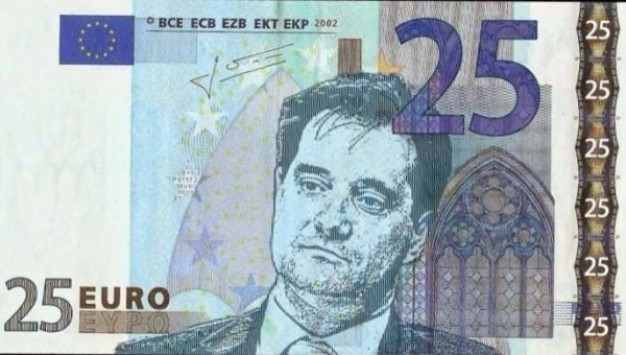 Greece prints new EURO banknote: 25 EURO to honor health minister Georgiadis
While PASOK demands that the measure should be reversed, health minister Adonis Georgiadis (ND) insists saying that also PASOK lawmakers voted for this and that in order to make it reverse PASOK has to propose 'equivalent austerity measures'.
PASOK claims that when it voted in favor of the measure it had got assurance that its imposition would be reconsidered if the state revenues were higher.
Considering that prime minister Samaras claims that there is a primary surplus…. I would dare say, there is not need for this measure.
However, Adonis Georgiadis, who mutated from a television bookseller into a devoted and strongest Troika- and austerity- supporter, claimed that:
According to statistics, a citizen gets hospitalized once in ten years. So, paying 25 euro once in 10 years is not the end of the world.
I know people who have been hospitalized once in their lifetime and others who need hospital care every couple of months. But the logic of illogical  health minister cannot be commented…
Citizens' reactions
Meanwhile, low-income citizens who visited the public hospitals commented on the 25-euro fee:
"I don't have money, how shall I pay the €25," said a woman with 600 euro pension per month.
A pensioner of €500 monthly income described the measure as "unjust", while an employee said "the measure is a disaster."
"What a shame, I cannot even pay the €5 entrance fee for the hospital and this Adonis thinks everything is fine, he appears on TV and laughs all the time," an elderly patient told reporters.
Fact is that the 25-euro fee will be paid only in case the patient needs hospitalization.
Fact is also that PASOK wants a society friendly health care due to upcoming municipality and EU elections. PASOK is expected to experience the strongest elections defeat in its entire political life.
PS Also according to statistics, no clown ever becomes a minister, but real life proves in Greece everything is possible…