Left-wing SYRIZA leads with 7% difference ahead of Nea Dimokratia. In one of the last polls published Friday evening, that is two days before the elections, SYRIZA  receives 33.5%, while Nea Dimokratia remains around 26.5%, in another poll SYRIZA is at 33.4% and ND at 26.7%.
While the win of SYRIZA seems inevitable,  the run for the third position is quite interesting:  To Potami 0f ex TV journalist Stavros Thεodorakis and the neo-nazis of Golden Dawn. Despite the fact that the majority of ex MPs, party chief included are in custody awaiting trial on charges for having form a "criminal organization."
Poll conducted by Macedonia University for Skai.gr
SYRIZA 33.5%
ND 26.5%
To Potami 7%
Golden Dawn 6%
KKE 5.5%
PASOK 5%
Independent Greeks 3.5%
To Kinima, the party of ex PM Papandreou looks like it will not manage to enter Parliament as it receives  1.5%, when the threshold is 3%.
Undecided 7%, that is as high as the potential voters of the third party (To Potami).
20% of the respondents replied that they changed their opinion about what party they would vote during the pre elections period. 6.5% admits that it was influenced by the polls they were published.
The voters' trust towards the programs of the party they are going to vote remains relative low, with only 53% of respondents saying that it expected the party it will vote to fulfill its program.
70% of ND voters believe that the party will fulfill it program, while only 60% of SYRIZA voters believes that they party will materialize what it promises.
29% prefers an "ecumenical government", while 23% wants a SYRIZA majority government.
Poll conducted by GPO for Mega TV
SYRIZA 33.4%
ND 26.7%
Golden Dawn 5.1$
PASOK, To Potami 5%
KKE 4.9%
Indepdnent Greeks 3.5%
To Kinima 2.9%
Other 2.4%
Undecided 9.3%
Seat projection by Public Issue according to Polls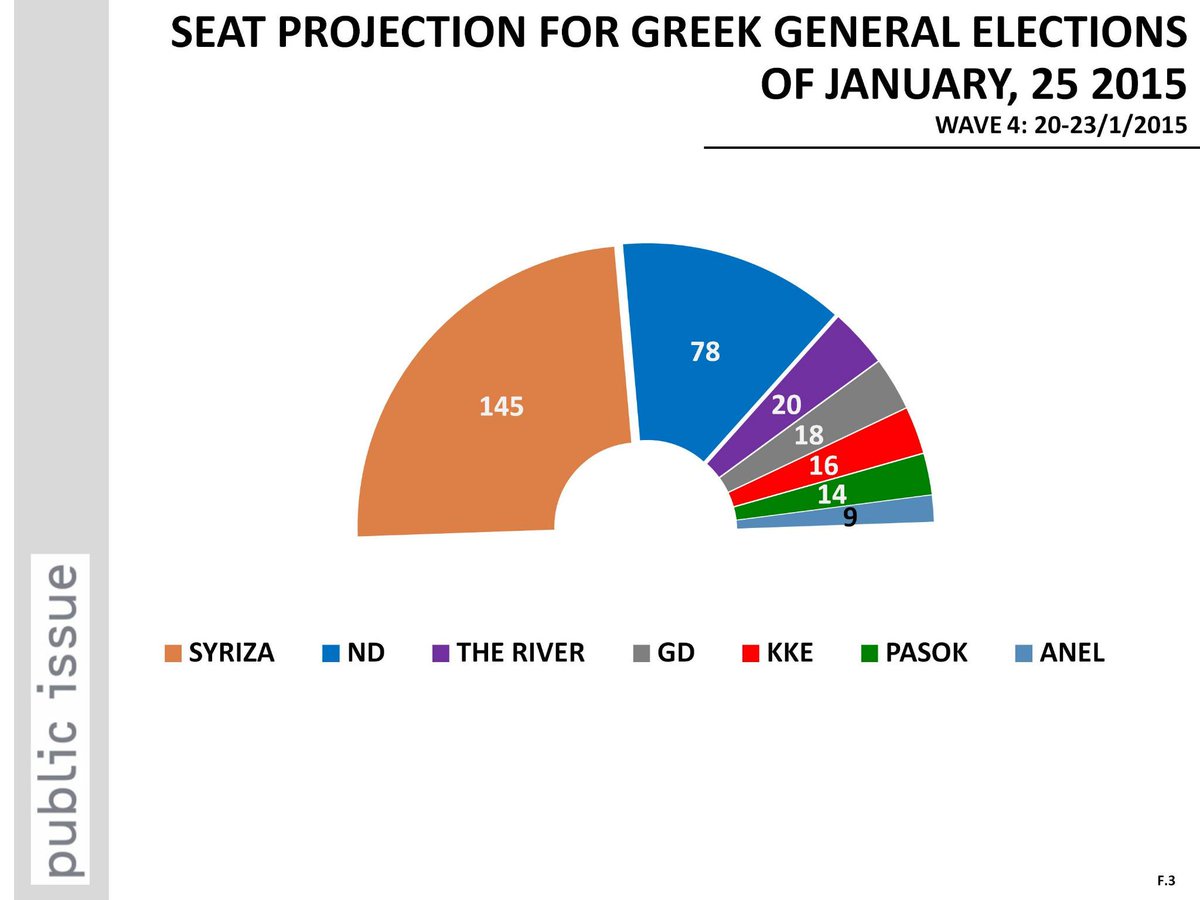 by @Publicissue on Twitter
As quite some people have asked about my suggestions, I dare "see in my crystal ball":
SYRIZA 35%-37/38%
ND 25%-26.5%
Golden Dawn 5.5% – 7%
To Potami 5% – 6.5%
KKE 4.6% – 5%
PASOK 4.2% – 4.5%
Independent Greeks 3.6%
According to the law no more polls will be published on Saturday…
PS On Sunday, Jan 25/2015, I will  most probably (98%) have a live blogging after 6 pm local time. Exit polls will be at 7 pm, first results of 25% of the votes are expected  between 9:00 and 9:30 pm.