In other Greek news away from the Greek debt… the government proceeded with some important changes concerning protests and police presence. Two rallies held on Saturday took place without armed police, without combat shields, without use of tear gas and with the metro stations open. This was a decision by the new alternate Minister for Public Order and Citizens' protection, Yiannis Panousis.
The protests were held by neo-nazi Golden Dawn and anti-fascists in two separate places in downtown Athens. GD supporters met in Rigilis square to commemorate the Imia anniversary, the anti-fascists felt obliged to launch a contra-protest between Athens University and Syntagma square in front of the Greek Parliament.

Greek police had to watch protesters spraying graffiti on police buses.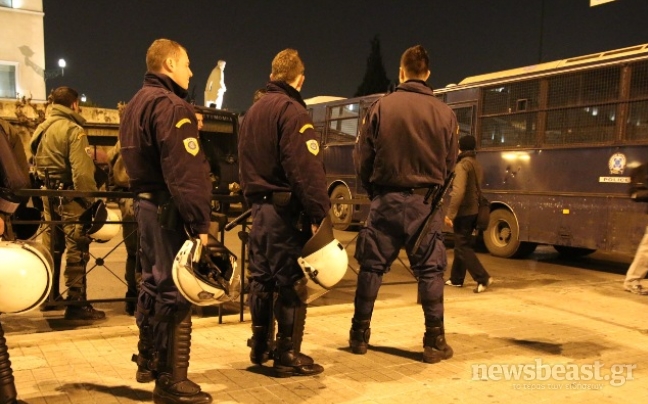 No chemicals to chase pensioners and teachers
On Monday, Panousis opposed the use of tear gas against peaceful demonstrators like teachers and pensioners. He said that chemicals can be used when the other side [protesters] use weapons like pieces of marbles etc.
" To use chemicals it means that things have reached an extreme form, and where others use various types of weapons, from marbles pieces to anything else. Then, the issue should be examined. But chemicals are not to chase pensioners or teachers, Panousis told Vima FM.
Greek  protesters were much to often exposed to an extensive use of tear gas and police violence during anti-austerity protests from 2010 onwards -pensioners and even demonstrators with disabilities were not excluded.
December 3, 2014: protesters with disabilities, riot police
Yiannis Panousis also announced the withdrawal of 1,500-2,000 policemen from guarding VIP persons, changes of police presence during football games and said he favored the scheme "neighborhood's policeman and patrols on foot".
"If it is to have police everywhere where 10,000-15,000 people get together, then we should have police everywhere, at the squares, in the offices, around the corner," he said.
I remember he said after his ministerial appointment he had plans to limit the number of police presence during sports events and if I reckon correctly he advised sports officials to organize the security themselves.
PS of course, there is a question whether the anti-austerity protests will continue with a government that is against the austerity.