So what happened yesterday at the Eurogroup meeting that ended in breakdown of talks,frozen faces on both sides, and media titles like "Crash", "Grexit" and horror scenarios of the kind? It's difficult to get the correct information together if you're not there, yet I give it a try based on Greek and international correspondents in Brussels, "anonymous EU commission officials", the statements of Greek Finance Minister Yanis Varoufakis and deputy Finance Minister Eykleidis Tsakalotos who was present at the meeting.
FinMin Varoufakis revealed to the media that prior to the Eurogroup meeting EU Monetary Affairs Commissioner Pierre Moscovici gave him a draft that he "would be happy to sign."
In a message uploaded on his Facebook page late on Monday, Tsakalotos mentioned that Moscovici's draft was "a compromise deal agreed to by Draghi, Lagarde and Moscovici."
That is that Greece's official lenders and bailout program supervisors, the Troika of European Union, the International Monetary Fund and the European Central Bank, had agreed on a compromise solution that offered something conciliatory to Greeks. That is "recognition of the humanitarian crisis, an 4-mnoth extension with an intermediate program, technical assistance by the EU."
Short after this draft and still prior to Eurogroup meeting, Eurogroup head Jeroen Dijsselbloem presented to Varoufakis another draft, a totally different draft that not only it included "program extension" and "specific reforms" that should be done by the Greek side. It also mentioned "some flexibility", a phrase that was much to vague and dangerous for the Greeks.
   The day after… handshake: Dijsselbloem – Varoufakis at ECOFIN
What had happened? Tsakalotos writes that Moscovici's draft
"was sunk by Dijsselbloem presumably on German pressure."
Fact is that the drafts were prepared before the Eurogroup by top officials, like Dijsselbloem and Moscovici.
The first question that arises here is: what do the eurozone finance ministers do during the eurogroup meetings? Do they have a say in forming eurozone policies? Or do they just sit there and get paid to be bored and lightly dozed and occasionally agree on what top of EZ officials dictate in the short intervals they are awake?
The eventσ yesterday bring a myth to collapse: that during the eurogroup meetings, discussions and debates and negotiations take place. Apparently, they do not. Everything is settled in advance by the head of Eurgoroup  "presumably under German pressure," and it's a "take it or leave it" blackmail.
So Greece, or any other country in similar situation, has no chance to negotiate – how much more to win – a game that has been "fixed" in the Euro playground of deception and double-faced officials in roles of "good cop, bad cop."
How comes that Moscovici and Dijsselbloem present two different drafts? Is Europe divided on Greece?
During the ECOFIN meeting on Tuesday morning, Pierre Moscovici dismissed such claim. "The draft he presented to Varoufakis does not show that European institutions are divided on Greece," Moscovici claimed towards journalists.
"There should be a room for flexibility, space for politics, but we all need to understand what the process is. The European Commission contributes to the teamwork of the Eurogroup. There is not a document or another document. There are contributions to a global agreement," Moscovici added in an attempt to pick up the pieces of his what it seems hurt ego. He refrained from explaining the grave gap between the two drafts – or even why did he present his draft to Varoufakis, since it was "just some personal thoughts," as Greek media report form Brussels quoting EU officials?

And he will never do so. Neither Dijsselbloem felt the need to give any explanation.
This morning, the German press attacked Varoufakis in one voice, describing him as:
"almost shameless," bad crisis-manager", "no serious negotiator with no idea of markets and politics", "unreasonable", "ill-mannered". (Deutsche Welle)
The fury of the German media may indirectly verify the rumors that the German ambassador asked PM Alexis Tsipras to replace the Finance Minister.

Αccording to Greek media, German ambassador in Athens allegedly expressed this request to a Greek minister after last week's Eurogroup. Merkel's coalition partner,  SPD  asked the same: that Tsipras replaces Varoufakis. News coming from France, claim that is not fond of the Greek FinMin either.
I dare assume, that Varoufakis' revelations about the Moscovici draft last night, must have literally shocked the Eurogroup members who are used to the holy secrecy of their close fraternity, euro priesthood and dirty little games.
But this new Greek government is up to more transparency 🙂
Documents
Tsakalotos's message on Facebook
Dijsselbloem's draft – Rejected by Greece
Moscovici's Final Draft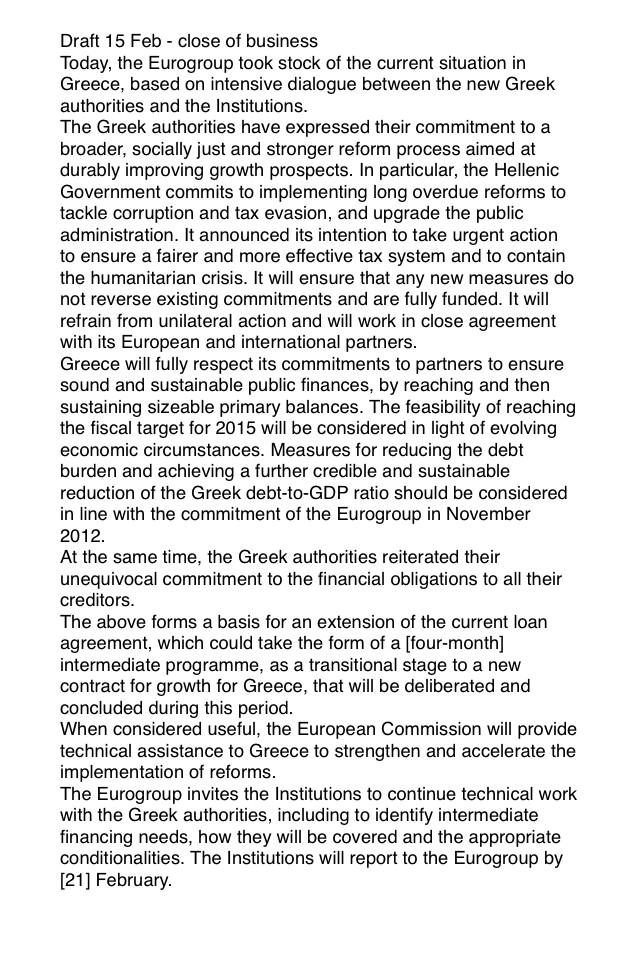 as posted by @PaulMason from UK Channel 4 on Twitter in the early morning hours of Tuesday.
PS No, there is no sign of any resignation from the top of Eurogroup or the EU Commission. Thanks for asking…