A long expected reaction came today: riot police fired tear gas against people who had gathered outside the occupied the Athens University. According to the first information a group of anti-authoritarians had gathered outside the Athens University that was cordoned by riot police since yesterday. the University has been occupied since almost three weeks.
When the protesters moved against the police with wooden sticks and stones, the tolerance of the left-wing government towards "freedom of expression and protest" was over.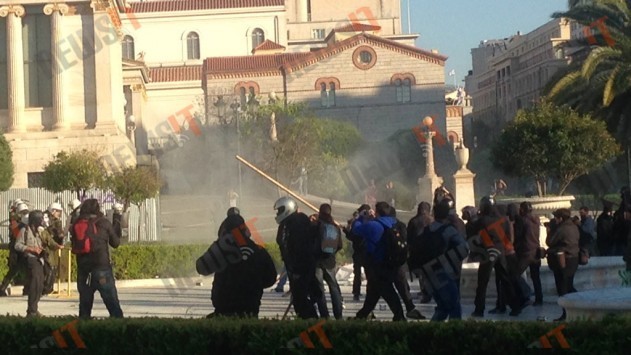 Police fired tear gas and flash-bang grenades and started to chase the protesters.
Media and eye-witness report of ongoing tension in the area and two main avenues – Stadiou and Panepistimiou- to be currently closed to traffic.
There is some confusion about the aim of the number of protesters. According to some media, a group of 150 people tried initially to break the police cordon, other media claim that the crowd grew to 1,000 after citizens joined the anti-authoritarians. Some speak of "anarchists".
It is not clear what they wanted to protest: some media claim that they wanted to enter the University and join the occupiers, others claim that they wanted to hinder gold miners of holding a protest there, scheduled for 6 pm.
Video: protesters clash with police
embedded by Embedded Video

YouTube Direkt
According to unconfirmed reports, the "protesters" attacked with fists and kicks a photo-journalist intern who was trying to shoot some pictures.
Anti-authoritarians? Anarchists? Anti-Gold mining protesters? Or just the "usual trouble-makers"?
There has been much criticism against the government and the Alternate Minister for Public Order Yiannis Panousis for having tolerated not only the University occupation but also for allowing "trouble-makers" to run Athens into a battle field with damaged cars and fires on garbage bins.
Panousis said on Wednesday that "the occupation of the University would be soon over."
We don't know if Panousis has plans to end the occupation with the aid of police today, but he showed that he would no longer tolerate trouble-makers.
More pictures: here, here and here.