European Commissioner Jean-Claude Juncker would not hide his joy to see an old friend again, Greek Prime Minister Alexis Tsipras. with a warm smile in his face, Juncker embarrassed Tsipras and pressed one of his famous kisses to the Greek cheek.
The two held a short face-to-face meeting  and reportedly "agreed to keep trying."
Juncker will not join Tsipras' meeting with German Chancellor Angela Merkel and French President Francois Hollande at the sideline of the EU -Latin America Leaders Summit in Brussels, later tonight.
Something that it was interpreted by some Greek pro-austerity mass media as "Greece lost its only friend in the EU."
However, Tsipras and Juncker are said to hold a meeting tomorrow, Thursday.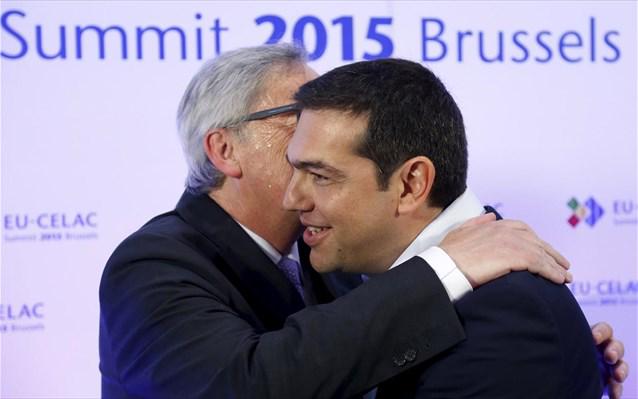 From morning until the early hours of Wednesday afternoon, the Tripras – Merkel -Holland meeting seemed to be in the stars with creditors signaling that they were not satisfied with Greece's latest reforms proposal and the whole atmosphere reminding of this of a Cold War.
But suddenly something had changed and despite all odds against Greece, Merkel said that she was ready to meet with Tsipras. And Holland agreed.
Arriving at the Leaders Summit, Merkel said that German Chancellor Angela Merkel said that
"A solution was possible to the Greek debt crisis. The goal is to keep Greece in the eurozone. I always approach these things with the attitude, if there is a will there is a way."
President Francois Hollande on his part added a cherry on the top of cream of fluffy hugs and sloppy kisses, warm handshakes and honest eye contacts.
"Let's work, go fast and conclude,"and he urged against solutions that "would be bad for Greece, for the European Union and for the eurozone".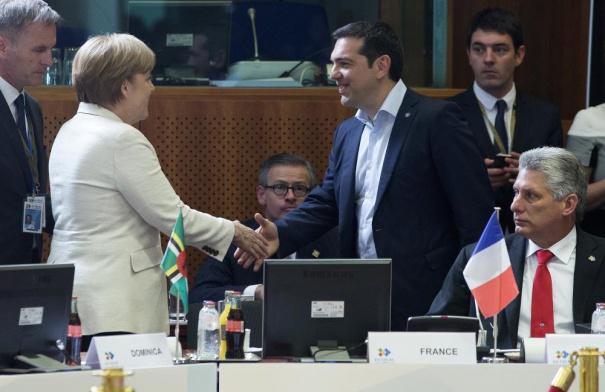 Of course, nothing is offered without something. Germany let the Greek side through Bloomberg know that Merkel might agree to a kind of "money per reform" deal.
"Chancellor Angela Merkel's government may be satisfied with Greece committing to at least one economic reform sought by creditors to open the door to bailout funds, according to two people familiar with Germany's position.

They may settle for a clear commitment by the Greek government to a measure up front to unlock aid, said the people, who asked not to be identified discussing the government's negotiating stance.

To convince creditors that Greece is serious, Tsipras would have to take tangible action, for instance introducing reform legislation in the Greek parliament, one person said. If Greek officials move quickly, funds could be released in early July, the person said." (full article here)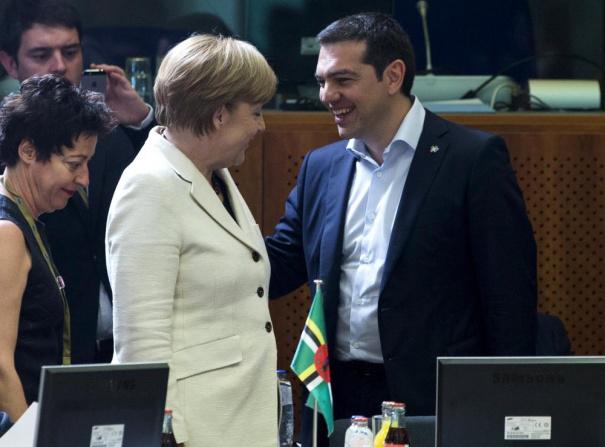 The Tsipras – Merkel -Hollande meeting is scheduled to take place after dinner, at 9:00 pm local time (10:00 pm GR time).
PS the two sides might be close to an agreement, especially now that Chancellor Merkel seems to have let her Finance Minister Schaeuble sit alone in his own anger and objections. OK, Merkel will have to deal with her own conservative MPs who would love to have their euro-tranquility without further aid to Greece and even better without Greece around. But Merkel is the Chancellor of all Germans, after all and she will certainly find a solution.
And be someone like Scarlet's mom, Mrs Ellen O' Hara, in Gone with the Wind, who was "always able to find a solution."  Even for a debt restructuring. *sigh* 🙂