The smiles and hugs and optimism in Brussels on Wednesday. The next day.. the bomb.  The International Monetary Fund delegation left the Greek negotiations "upon a decision of IMF Europe director Poul Thomsen" as Skai TV reported this morning. A little later IMF's spokesman Gerry Rice was telling media in Washington that:
"There are major differences between us in most key areas. There has been no progress in narrowing these differences recently and thus we are well away from an agreement."
Gerry Rice had also stressed that the "major differences" were in the key areas  pensions, taxes and financing.  He refrained from mentioning the difference between the IMF and Germany concerning the debt-restructuring though.
The surprise IMF move came after President of European Council Donald Tusk had made an statement calling on the Greek government "to stop gambling."
"There's no more space for gambling, there is no more time for gambling. The day is coming I'm afraid that someone says that the game is over," Donald Tusk warned the Greeks in a truly unacceptable way for an EU official.
The IMF delegation left and so did the Greek team that packed things and flew to Athens. Was was left behind was: a huge stunning. What would be next? An unbridgeable gap between Greece and its creditors? A rift? A Greek default by end of June because no "deal for cash agreement", the debt-ridden country could be unable to repay the IMF with 1.5 billion euro?
In Athens, government spokesman Gavriil Sakellaridis commented with reference to Tsipras – Merkel- Holland meeting on Wednesday night, that "Greece had agreed to intensify deliberations in order to conclude a deal soon, even in the coming days."
So, before the next Eurogroup scheduled for June 18th?
On Friday, European officials continued the old litany of pressure and warnings to Greece. Eurogroup head Jeroen Dijsselbloem may have stressed that Greece was a sovereign state responsible for its own decisions and at the same time, he ruled out any option for Greece to reject creditors' proposals.
"If the Greek government can't accept the fact that there are no easy solutions and that the difficult decisions just must be made, it is alone. We can't help Greece if Greece doesn't want to help itself."
Dijsselbloem added that there would be no deal without the IMF, however  he did not rule out a Greek deal even tomorrow. "The political decision could be made even tomorrow as long as it is credible and secures Greece's financial independence," Dijsselbloem sai in an interview with a Finnish newspaper.
"Greece rejecting proposals is not an option!"
As for EC President Jean-Claude Juncker... well… he called Greece a …cow! and said that Greece has to present a new Reforms Plan as soon as possible. "Within 24 hours," as some international media claim.
Jean-Claude Juncker before meeting PM Alexis Tsipras on Thursday:
"When a cow is on the ice you have to push it off'"
Friday morning, Jean-Claude almost burst into tears for the plight of the Greek cows… Sorry! …of the Greek people. He told France Culture radio:
"I feel very close to the Greek people who suffer."
Juncker said also some other nice platitudes like "ball is in Greece's court", "populism rises, because…", "Greek deal is necessary in the coming days", "Greek PM must give a fight with his own parliamentary majority", "I call 3 times a week to see what is going on on the streets" [of Athens, I suppose] and other cliche sentences of the same moral content but with no substance to the spot. Oh wait! He said that "negotiations have to restart on technical level first," then they turn political.
While pressure on Greece has reached its peak for one more time with unprecedented arrogance displayed by EU officials lips like Tusk and Juncker, negotiations on the technical level – Brussels Group – are on hold and everybody is wondering "What's now?"
The ghost of GREXIT appeared over the negotiations grave and German tabloid Bild uploaded a nice headline saying "Merkels is taking into consideration Grexit."
When everybody knows that the closest option is a Greek default on its IMF repayment failure and that Grexit is not an option for eurozone technical and legal reasons.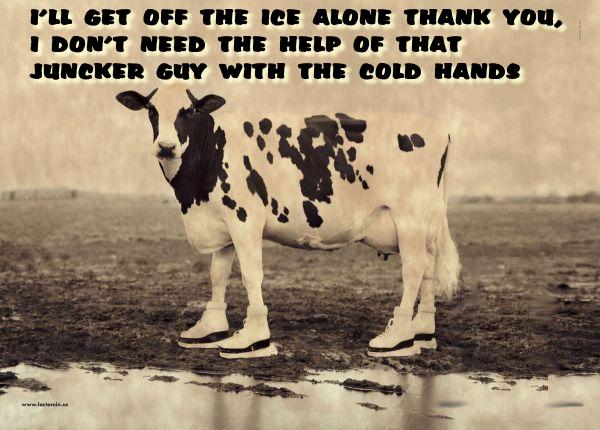 Cows reject Junckers' help for obvious reasons! Photo credit to @R0lf Dahl

PS At the end of the last 36 hours, we learned that top officials in our little EU Animal Farm officially think that Greece is a "cow" and a "gambler".