Between May 2010 and January 2015 elections, protests around Greece had a clear identity. They were against austerity, against pensions and wages cuts, in general against everything that had to do with the loan agreements between Greece and its creditors. In short, they were protests against the government/governments that were signing agreements with the lenders and the Troika.
But now, with an anti-austerity left-wing lead government in power, things have come upside-down and protests lost their collective identity.
Nowadays, one sees protesters outside the Greek Parliament supporting the government in defying creditors' austerity demands.
Banner: "No one step back"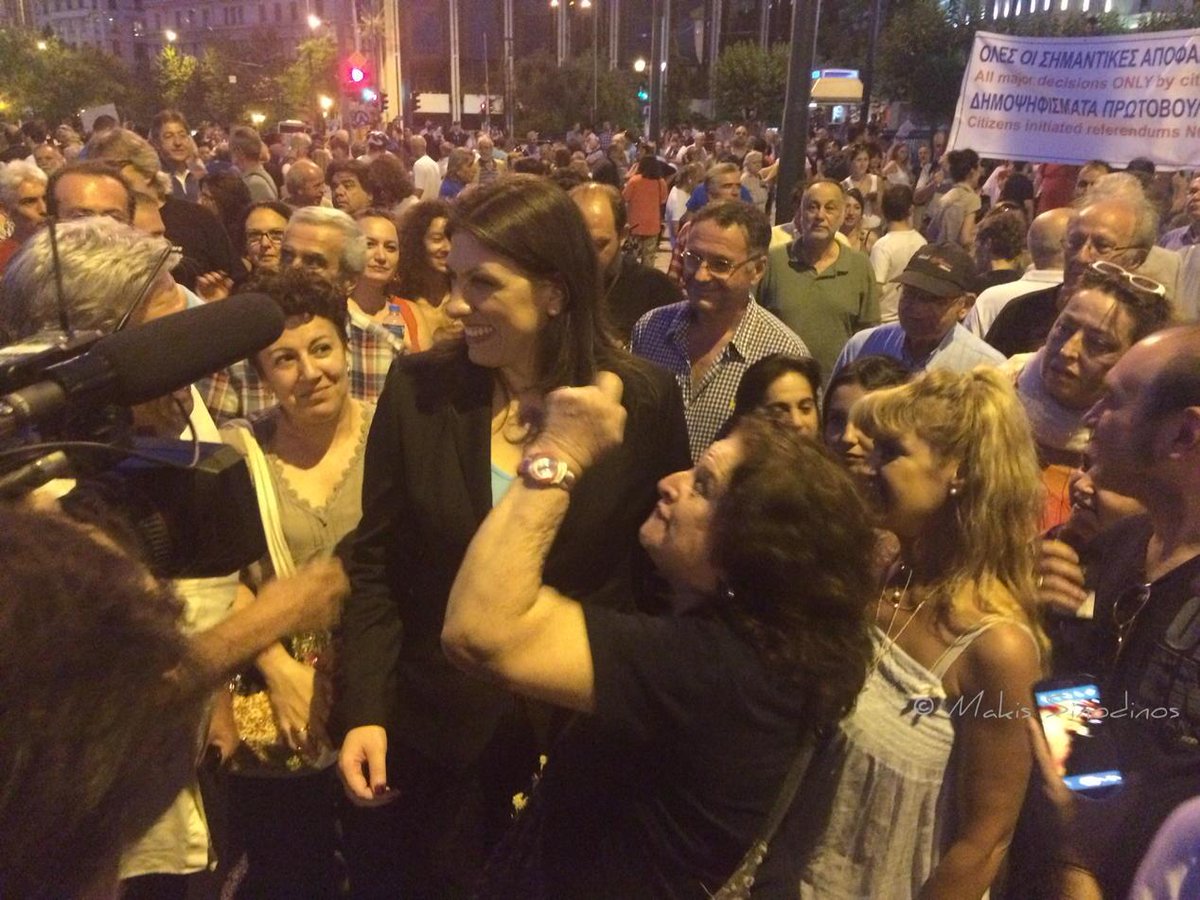 Parliament Speaker Zoi Konstantopoulou at pro-government, anti-austerity protest on Wednesday.
Among them, are also protesters favoring a Grexit and return to Drachma.
These are the protests still protests against austerity.
But nowadays one can see also protesters outside the Parliament asking for the government to comply with the creditors' demands. Such a protest took place on Thursday and confused many observers not only abroad but also within the country.
Thursday's protest run under the slogan "We stay in Europe." It was understood as a "spontaneous" protest called via the social media (mainly Facebook). It was in fact an anti-government demonstration organized by conservative New Democracy. A fact underlined by the strong presence of many former ministers who had accompanied ex PM Samaras in the two and a half years of governing.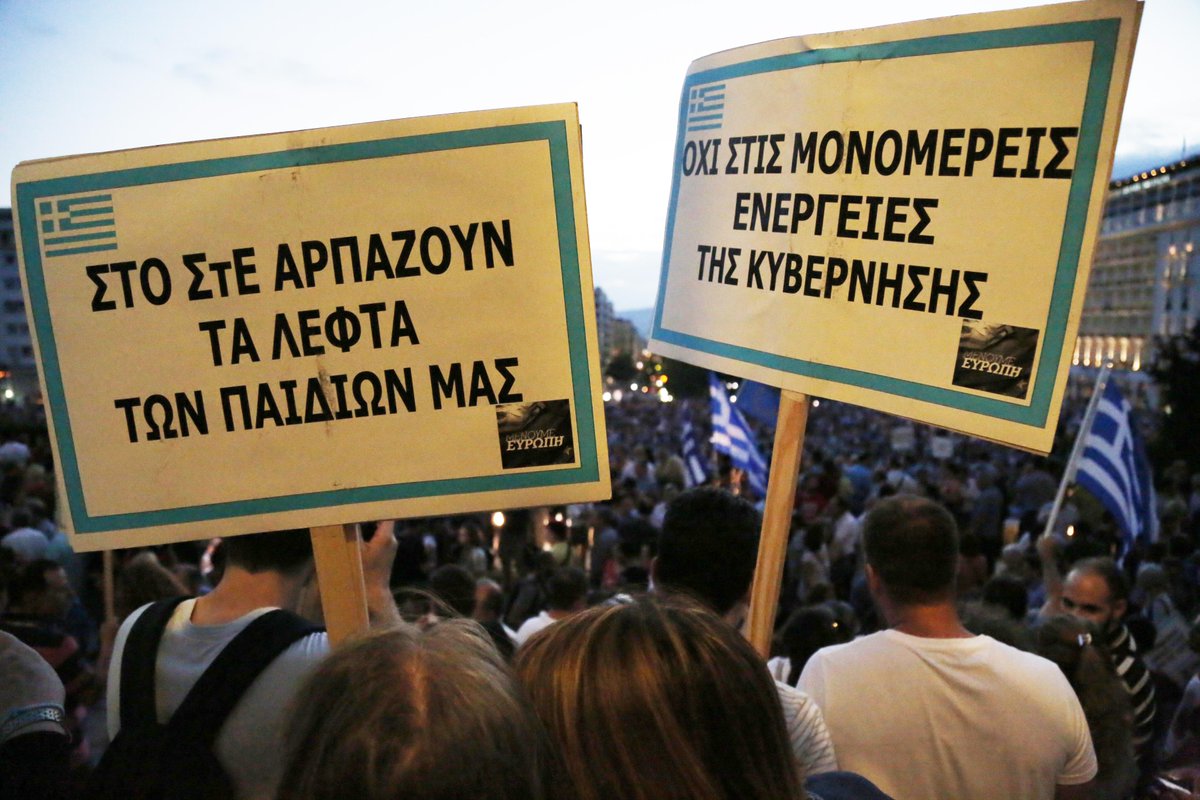 Banners nicely and orderly printed by the same device: Banner left "Supreme Court grabs our children's money" – referring to SC decision that pension cut sin 2012 were against the constitution. Banner right "No to unilateral government actions"

Former ND Minister for Public Order Nikos Dendias who was considering to limit mass protests for disturbing commercial life in downtown Athens.

Of course, also pro-government protests are "spontaneous" and people taking part are mostly SYRIZA-supporters.
Protesters lost in ideological labyrinth
There is nothing wrong with that. But, it turns out wrong when it comes to people who real spontaneous go to downtown Athens to express their opinion.
A characteristically example is this kind of confusion is the case of a friend who went to yesterday's protest. She is a "pro Europe" and "pro Euro" supporter but also "anti-austerity" in terms of cuts in the private sector, unemployment and recession. She favors real structural reforms that will free the country from the diseases of clientelism and nepotism, the two-class society plague of civil servants with lots of rights and benefits and private sector with minimum to zero rights and very few benefits. She had never jointed any of the protests 2010-2015  but she went to Syntagma to raise her "Pro Europe" voice.
She was embarrassed this morning when we talked on the phone to hear that this was a protest launched by New Democracy. "What??? Now it makes sense. There were so many well-dressed people there," she told me.
Pro-austerity demonstration after 5 years of austerity?
Some may even wonder how is it possible that there are Greeks supporting austerity policies, after 5 years of horizontal income cuts, the same cuts for those who have and those who have not.
It is interesting that in a blog post of mainstream and not exactly SYRIZA-friendly Proto Thema, a political columnist and journalist described Thursday's demonstration as "ridiculous and shameful".
"We saw this too. People demonstrating, many of them for the first time in their lives, with the request that the government accepts a humiliating, degrading, social unjust social and economic dead-end  agreement with the creditors. An agreement that even many abroad – certainly not Syriza supporters – consider as

At the most critical moment, where the government is trying to achieve at least some positive signs for an agreement to break the vicious cycle of crisis …  it is the "Nightmares" opening the path to the lenders – blackmailers.

Rather than protesting against the pressure from lenders, rather than expressing their support to the government seeking to stop austerity, to alleviate debt and provide development funds in the country, they took the side of the creditors.

They took to the streets apparently demanding to have their "peace and quiet", and do not get bothered by those who resists the loan agreements. It didn't bother them    that the loan agreements skyrocketed the unemployment or destroyed the society. What it bothers them is that their peace is been disturbed.

Let us not fool ourselves. These same proponents of the approach "we remain in the euro at all cost" will be among the first to criticize, ridicule and condemn the government why it did not do … a good deal! (full op-ed ProtoThema)
The last paragraph of the op-ed posted here is unfortunately very very true.
Nevertheless, there will be a protest on Sunday afternoon organized by the public sector union ADEDY and several other unions. Be informed that this is an anti-austerity demonstration, where the powerful union will request labor conditions to return into before 2010 conditions.
So how can a government gain or even lose the support of all these people with so many different motives?
At least, the previous governments (and international journalists) knew that all protesters were against the policies they were promoting …