o7:50 pm June 28 2015: +++ According to Greek media reports, the Greek Systemic Stability Council decided to impose capital controls and close the banks as of Monday, 29th June 2015.
Specific rules and arrangements not published yet.
The Greek SSC is currently preparing a statement on the issue.
The decision was proposed by the Bank of Greece.
It has to be approved by the Cabinet.
PM Tsipras is expected to address the nation later on Sunday make a short statement at 8:30 pm local time.
According to state broadcaster ERT people will be able to withdraw money from the ATMs. Limit not known yet.
The Cabinet is supposed to convene at 8 pm and decide on SSCouncil proposal.
Earlier on Sunday, Germany, Holland and UK issued advises to tourists traveling to Greece "to have enough cash until the end of their holidays." The statements warned of possible disruptions with the ATMs."
Greek media  Bank Holiday is suggested to be 29 June – 6 July 2015.
REUTERS: Athens Stock Exchange to be closed on June 29th
Christine Lagarde is reportedly waiting for Greece's payment to IMF by 6pm (Washington time) on Jun 30. (lol)
Some pension funds are expected to pay pensions on June 30th. I hope the government makes some arrangement that money will reach the vulnerable groups of the society. If banks closed and pensioners have to no card, Ministers could distribute money door-to-door…
8:56 pm
PM Alexis Tsipras televised message:

 The EUrogroup's decision to not extend Program and the ECB decision not to increase the ELA forced the Bank of Greece to propose capital controls.

On Sunday, I sent another request to Institutions for program extension. Awaiting for their response.

The Eurogroup decision is an act of insult and biggest shame.

They blackmailed the Greek people.

Greeks' deposits, they payment of pensions & salaries are guaranteed.

He urged Greeks "to remain calm".
They will not succeed. The very opposite will occur: the Greek people will stand firm with even greater willfulness.
09:03 pm
Mega TV:
Bankers have verbal information that the banks will be closed for 6 working days.09

09:22 pm
Obama – Merkel talks Greece
US-President Obama talked to German Chancellor Merkel on Sunday afternoon as Greece was preparing to impose capital controls.

Both leaders agreed that it is of "crucial importance to have efforts so there will be return to the road that will allow Greece to continue reforms and growth within the eurozone," the White House said.

Obama's and Merkel's "economic teams monitor the situation in Greece and will remain in close contact," the American presidency added.
US-Treasury Secretary Lew called Lagarde, Schaeuble and Sapin (France) urging them to find a solution for Greece before the Referendum and even put "debt relief" on the table. (via Mega TV).
09:31 pm
Opposition leader conservative Antonis Samaras (New Democracy) calls PM Tsipras to "cancel the referendum and form unity government".
09:46 pm
Several Greek media report that
"the Systemic Stability Council proposed "daily cap for ATMs withdrawals €50-€60"
10:00 pm
going yo buy cigarettes…
10:16 pm
one could buy unlimited amount of cigarettes…
10:17 pm
According to German media, Chancellor Merkel and President Holland want to address Greek people in the next days.
Remember I told you a couple of weeks ago, that Merkel will address the Greeks?
10:31 pm
Queues are growing long and longer outside the banks with concerned Greeks trying to withdraw as much money as they can, before the Capital Controls are imposed.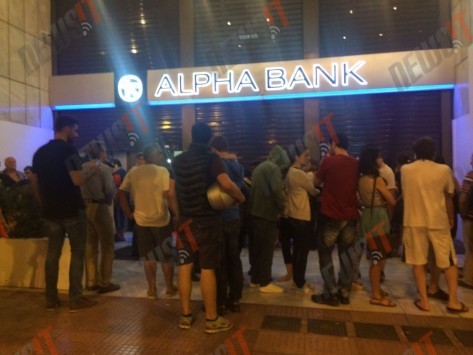 Friends and relatives report that several ATMs are empty.
 A Black Sunday for Greece and for Europe
Nice perspective: Referendum with Banks closed and Capital Controls.
***Fact is that they all knew it after the ECB decision at around 2 pm. Even Varoufakis who played with the words after he talked to BBC earlier…
Greek sources: newsit, State ERT TV, MEGA TV, in.gr
Live blogging from Athens concludes for tonight.

If Details on Capital Controls are published I will post them on separate post.
Thank you for following KeepTalkingGreece 🙂