For nine hours Greece stood under the heavy ammunition by Germany, the block of five ex Communist states… until Finland's extreme-right radicals 'true finns' seized the Eurogroup session. They – their small Finnish parliamentary group- demanded that no further aid in form of European Stability Mechanism funds should be given to Greece. Then Malta and Slovenia raised new demands to be asked from Greece… Around 1 o' clock in the morning, the Euro finance ministers left the hall to their Brussels hotels for a short rest after another 'exhausting' day. The Eurogroup meeting resumes today, Sunday, at 11 am Brussels time (12 GR time).
Saturday's Eurogroup ended without joint statement, as the initial mood "All against Greece" had turned into "All against each other" towards the end of the session.
EU source: tension btw #Draghi–#Schauble because the first tried to support #Greece for the PSI. #Dijsselbloem calmed them down. #Eurogroup

"Don't take me for a fool," Schaeuble reportedly told Draghi.
After the meeting, EG-head Jeroen Dijsselbloem told reporters : "The issue of credibility and trust was discussed and also, of course, the financial issues."
  The eurogroup last night
According to Reuters:
"Skeptical euro zone finance ministers demanded on Saturday that Greece go beyond painful austerity measures accepted by Prime Minister Alexis Tsipras if he wants them to open negotiations on a third bailout for his bankrupt country to keep it in the euro.

The ministers postponed until Sunday a decision on whether to recommend starting talks on a new loan for Athens and sought further commitments first on product market liberalization, labor laws, privatization, state reform and more defense cuts, plus a promise to pass key laws next week, officials said."
There have been some 'leaks' or better call them 'rumors' that:
1. among the EZ-countries demands were also to appointed "creditors' supervisors inside the Greek administration."

2. The EURO Leaders are to give Greece a deadline until next Wednesday, July 15/2015, to pass first "prior actions" bills through the Parliament.
But the most important issue on Saturday night, was the leakage of a non-paper by German Finance Minister Wolfgang Schaeuble in which he proposed a "temporary 5-year Greek exit from the Eurozone." The non-paper was reportedly agreed with Chancellor Angela Merkel, while Vice Sigmar Gabriel (SPD) was brief on the German intentions and plans.
Schaeuble did not present the non-paper to the eurogroup, but he was desperately searching for the mask that had fallen off his face and had confirmed what everybody was sure of: That Schaeuble is determined to have Greece out from the EZ and that he will not accept anything Greece's offers.
Sunday morning, the Eurogroup ministers started to flock to the Lex building again, making short statements to the press. What has becomes clear so far, is that France definitely wants to keep Greece in the Euro and that together with Italy are raising voices against Germany.
Whether Finland wants to bail-out Greece or not is not that important: Because the ESM funding can be approved even without Finland, in case the Eurogroup decides to call "emergency majority voting of 85%"
ESM vote%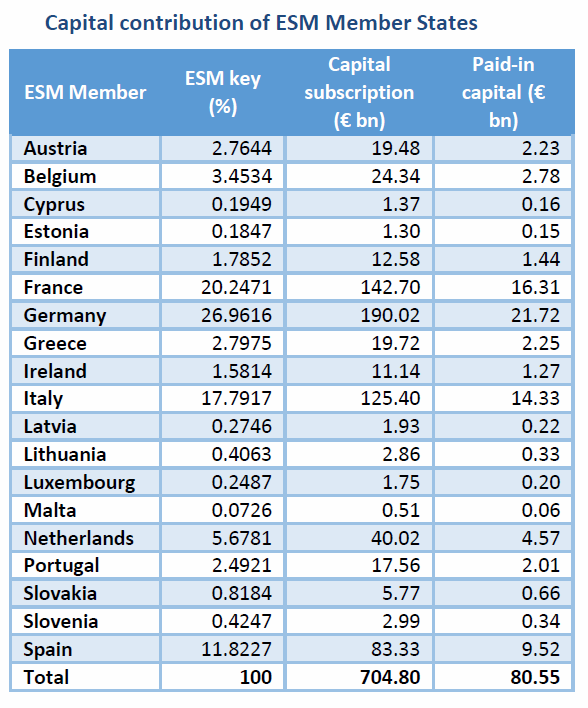 Fact is that Greece is trapped: with or without Euro, Greek banks are on the verge of collapse after the ECB froze the ELA and bank holiday and capital controls since June 29th 2015 have drained bank and the state's liquidity.
Sunday's good news is that European Council President cancelled the 28-EU Leaders Summit, originally scheduled for after the Euro Leaders Summit.
I have cancelled #EUCO today. #EuroSummit to start at 16h and last until we conclude talks on #Greece
The 28-EULeadersSummit was put on the agenda, suggesting that talks on Greece both in the Eurogroup and EuroLeadersSummit would end without the crucial compromise and that Greece's default was imminent. The 28-EULeaders were supposed to decided whether Greece should default within or outside the Eurozone. In that sense, the EUCO cancellation is a good news, the only good news in the last hours/days/weeks.
From Saturday's Eurogroup, we should keep two thinks in mind:
1. the Finns who believe in Santa Claus do not believe in Greece.

2. Many devoted pro-Europe Greeks started to reconsider and thus since a year ago. And the same happened to other European people.
When Eurogroup and Summits are ON, you will find me on Twitter: @keeptalkingGR.