Twitter hashtag #ThisIsACoup was trending worldwide on Sunday night, as euro leaders were pushing and kicking around and putting pressure on Greek Prime Minister Alexis Tsipras to either accept  their deal or exit the euro club in an unprecedented collective action of EU/EURO-blackmail against a member-state. Angry users from all over the world started to lash out at EU officials in general and Germany in particular for imposing their terms to Greece and humiliating a democratically elected Prime Minister as well as the people of Greece for having voted for a left-wing government.
"By 09:00 GMT on Monday morning the term had been tweeted over 377,000 times and was trending overnight across Europe," stressed the BBC in an article on the social media phenomenon. #ThisIsACoup had climbed even above #EuroSummit, which was supposed to be ultra-trendy due to its most crucial decision for Greece.
""People were lashing out at what they see as an unfair deal," said Anne-Marie Tomchak from BBC Trending, "People are really unhappy at the mount of power that the Eurogroup has."
People were angry to see that EU was not anymore about the Europe of the people but the Europe of the powerful.
Majority of Twitter hashtag-users were particularly critical of Germany's stance, its hegemonic role in the Eurogroup  and compared the current situation to the Nazi occupation of Greece during World War Two.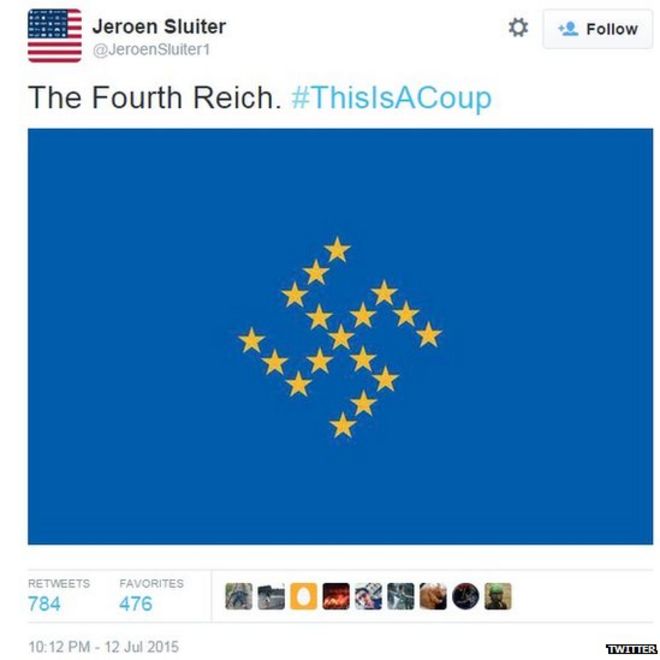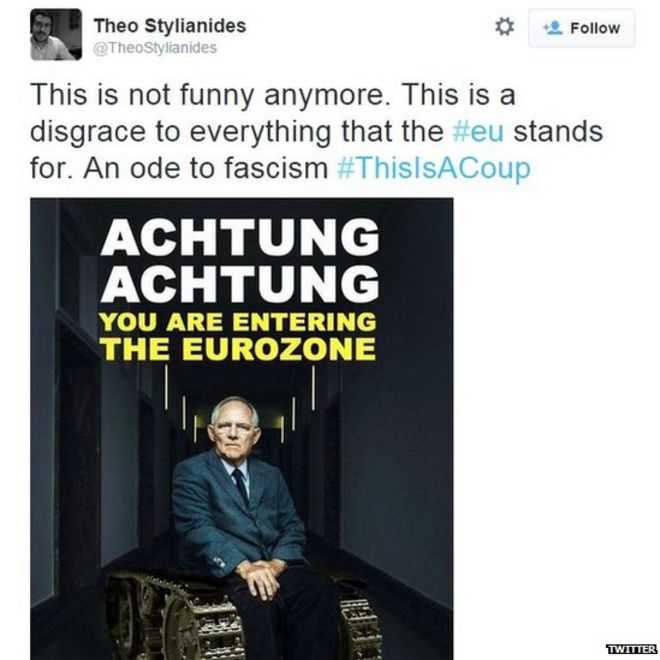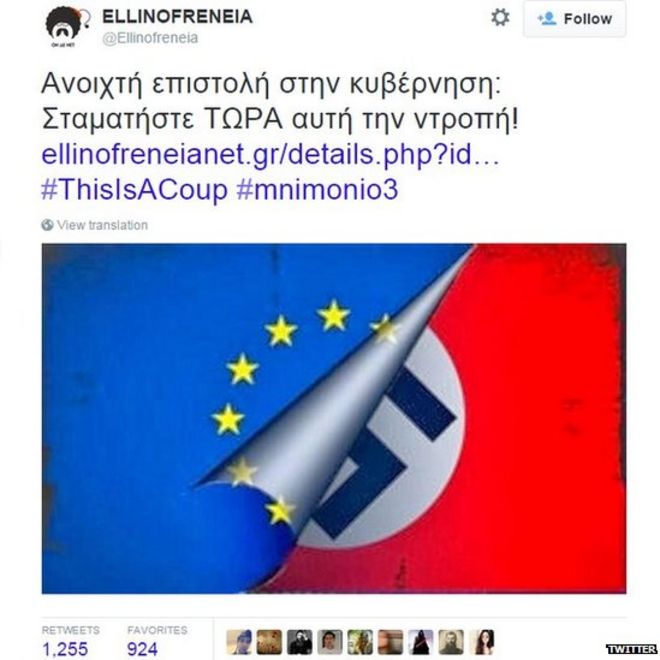 Was what happen in Brussels a Coup? Of course, it was: not a political coup but a financial one that will soon also bear political consequences: SYRIZA's Left Platform is up in arms with PM Tsipras and SYRIZA's moderate part. Political developments are due sooner than one would possibly expect despite the fact that Greek government is obliged to pass Euro Leaders demands through the Parliament …'yesterday'.
So, yes, it was a Coup. A financial Coup d'Etat.
Coup d' Etat is a coup, or an overthrow, is the sudden and forced seizure of a state, usually instigated by a small group of the existing government establishment to depose the established regime and replace it with a new ruling body. A coup d'état is considered successful when the usurpers establish their dominance. A coup d'état typically uses the extant government's power to assume political control of a country.
In case of Greece and the Financial Coup d' Etat: after an orchestrated financial asphyxiation via the European Central Bank and an economical blockade of six months, a group of most extremist conservative forces in the EU (so Greek PM) decided on Saturday to force seizure of Greece's public assets. Group leader: Germany and FinMin Schaueble. Should the Greek "enemies" did not immediately surrender, their banks would collapse as of Tuesday. And that was the worse scenario that the #Grexit-threat as its realization would take some time.
"What they are trying to do in Greece is launch a financial coup d'Etat and convert it into a protectorate," said Pablo Echenique, a regional deputy of Spanish anti-austerity party Podemos and a former member of the European Parliament.
Speaking in a television interview, he was the first prominent member of Podemos to react publicly to the deal announced in Brussels, which obliges Greece to make tough cash-saving reforms.
Podemos is a high-profile ally of SYRIZA, sharing its stance un opposing the financial cuts imposed in the financial crisis under pressure from European authorities. Podemos has surged in popularity and ranks as the third biggest party in Spain ahead of a general election due around the end of the year. (via AFP)