Greece's Power Public Company (DEH) is angry. The amount of unpaid bills by its customers has reached the astronomic 2.5 billion euros. The PPC is so angry that it plans to cut the power to those with outstanding debts as soon as possible.
Of course, many Greeks cannot afford to pay the bi-monthly bill mostly because the amount to be paid doubles due to added extra fees like emissions, green-whatever, municipality fees, state tv fees,  etc. For example bi-monthly electricity consumption is estimated by DEH to be €52 but i am asked to pay €100 becausee of the extra charges. The bill includes 13% Value Added Tax but also "interest" of €0.44 although I pay per monthly bank order and I am never late. Every 4 months I receive a bill based on my real consumption – and not just an 'estimation' – and then I find my self in a state of passing out. Summer months are more expensive due to the use of A/C, winter months are also expensive due to the use of electric devices like A/C to heat the apartment. Bills explode to several hundred euros. I am not alone in my struggle to pay the bill. But many cannot even afford it.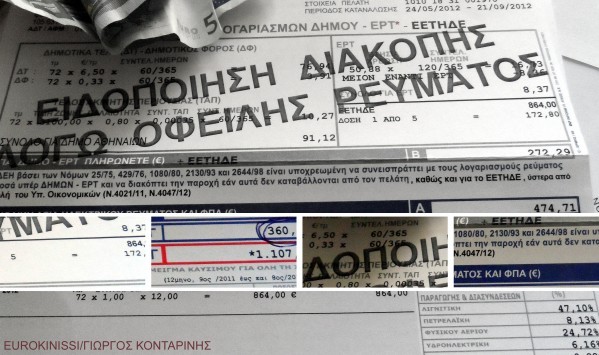 According to Greek media reports, 2.1 million consumers have outstanding debts to the Greek PPC. They are private households, businessmen of small and medium enterprises, merchants, craftsmen.
Now the PPC plans to "turn the power off" and leave them in the dark. Not without previous notice, though. It will send consumers a warning and if they won't comply, they will desperately seek to turn on the lights in the evening, cook for their kids, keep the cheese in the fridge, use their wireless phone, watch tv, heat their homes opr complain about their situations on the internet.
The business debts are reportedly 1.8 billion euro.
Exempted from the planned power outages will be consumers in the program of "social price policy", even though the PPC plans also to screen anew this customers' category, as some apparently have misused this provision aimed solely for the poor households and people with disabilities.
Some consumers rush to make settlements for their debts but then the monthly payments to PPC are higher than the payments they can afford. Furthermore, the real life has showed that once in PPC debt, one is always in PPC debt unless one pays once for all the debt. There is not even 0.001% reduction in cases the consumer has paid 1,000 euro at once – just to name an example.
households and businesses started to sink in PPC debts after the government incorporated the Special Property Tax in the PPC bills in 2011. Debts to PPC increased rapidly because consumers were simply unable to pay the bi-monthly bills that skyrocketed from let's say 100 euro to more than 250 and thus amid the economic crisis of recession, unemployment and income decreases.
Meanwhile the Property Tax comes separately and directly from the tax office, but that incredibly bad practice imposed on 2011 and 2012 and the outstanding debts keep holding households and businesses as hostages for the rest of their lives.
Two months ago, I had posted about a jobless neighbor who was victim of PPC's power outage since last March. Her bill was 700 euro. She will not be affected by the new power outages. She still lives in the dark and has no means to heat her home.
PS I wonder what the PPC will win if it cuts the power. It will not receive any money by those who do not have any anyway.