For one more time, Greece is in the Eurogroup's Twilight Zone. Some of the creditors insist on putting obstacles in front of the release of the 2-billion euro bailout tranche. And no wonder, it is the usual "suspects": Schaeuble, Dijsselboem & Co. Ok, everybody knows that Dijsselbloem is following Schaeuble's orders, while Schaeuble is following his own political  aspirations: to be Chancellor in Berlin. Thus taking advantage of the situation with the refugees, with Merkel's policy on the issue and the crowd of conservative German voters, the economic situation in Greece. How he will do it? It's easy – today he staged his own little coup against Merkel, short before he left for the Eurogroup meeting in Brussels. Today, it became clear how Schaeuble's deepest wishes are interwoven with the Greek bailout and the Refugee Crisis.
It has been clear in the last few days, that the Eurogroup would not approve the release of the 2-billion euro bailout tranche Greece desperately needs. The gap between Athens and the creditors on certain issues is still there. Or the creditors do not want to bridge it. At the doorstep of the Eurogroup meeting hall, the German Finance Minister and the Eurogroup chief competed with each other as to who will give the strongest headbutt the Greeks.
Jeroen Dijsselbloem said for example "Time is limited  for Greece" and "we need to finish the first set of milestones as soon as possible'.  He washed his hands in a big basin full of water and looking to the right, he said "No decisions are expected from us because the talks with the commission and the other institutions are still ongoing."
Wolfgang Schaeuble sat back relaxed as always and said the same thing as always: "Greece has not met all conditions for the payment." If it was for Schaeuble Greece can never and will never meet any conditions to please Schaeuble who would definitely prefer that Greece gets out of the eurozone and the EU and all 10 million Greeks move to Syria together with the refugees. But thank Goodness, the French are in Brussels too – apparently in support for Greece.
Before take the jet for Brussle, French Finance Minister Michel Sapin said he wanted a euro group agreement today that would provide funds to Greece this week at the very latest.
"I'm going to Brussels with the spirit that an agreement should be achieved this afternoon," Sapin said at a press conference Monday in Paris. "This will allow bank recapitalization and for the sums due to Greece to be paid." In a rare moment of self-exploration Sapin admitted "It's a bit strange we're always asking more of Greece."
He made specific reference to Number One issue of disagreement between Greece and creditors, the insolvent households and the foreclosures. Sapin said that he "understands" Greece's position on dealing with insolvent households and that its current plans are in line with those of other European countries.
"Greece has made considerable efforts. It's a bit strange that we're always asking more of Greece. Why should we ask of Greece more than we ask of everybody else?," the stunned Sapin wondered out-loud.
Another French, EU Commissioner for Monetary Affairs, Pierre Moscovici expressed something like a dynamic optimism.
I'll update #Eurogroup on the state of play on #Greece. Dynamic remains positive. Agreement can be reached in the coming days @EU_Commission
However, neither Sapin nor Moscovici can do much to mend fences between Greece and the rest of the creditors. The real problem is not whether the indebted Greek households will have to hand their property keys directly to Schaeuble or whether debtors will be allowed to pay back their debts in 100 or 90 installments.
Schaeuble wants definitely to become "Schaeuble instead of Merkel"
The problem sits in Berlin with modern-times Iznogoud trying to take advantage of Greece and the Refugee Crisis. The man who always wanted to become 'Caliph instead of Caliph' in the throne is Berlin, has practically staged a coup against chancellor Angela Merkel. He joined forces with even more conservative forces within the conservative CDU/CSU governing union and together they smitten a plan on how to get rid of the Chancellor, who shows a heart to the humanitarian problem.
Schaueble joined Interior Minister Thomas de Maizière and  Bavarian Prime Minister and arch-conservative CSU chief Horst Seehofer in their plans to minimize asylum protection for Syrians refugees.
Wolfgang Schaeuble proudly announced that "Germany's capacity to accept refugees has reached its limits" and he advocated restricting families reunions for Syrian refugees. An open foul to Merkel's refugees and asylum policies.
He went so far to advice poor EU countries to take in refugees as an economic boon. "Some countries with negative growth can promote growth through refugees," Schaeuble said.
Schaeuble in Brussels: "Additional refugees mean growth. That is, we have more chances that economically weak countries boost their economies if they take in refugees. This would also be a contribution to European solidarity."
"So, why doesn't Germany take in more refugees" one may ask. Because 1. Germany has already strong economy and 2. the refugee crisis is THE chance for Schaeuble to topple Merkel and 3. Germany has no more capacity.
Schaueble will keep on putting pressure on the Greek government to secure the EU's border on the Aegean together with Turkey and accept to keep thousands of refugees in order to "boost its economy". Only then he will give the green light for the release of the any bailout tranche to Greece. Because then, with refugees away from Germany, he will have won over Merkel.
Schaeuble knows how to play things and has strong cards in his sleeves. If Greece does not agree with the creditors' institutions not only the 2 billion will not reach the country, also the bank recapitalization may be at risk. And you can imagine the consequences. Delay over delay… until the end of the year and then bail-in with Greek depositors hostages of the capital controls to cry after their life savings or what is left from them after 5 years of economic crisis.
+++ Eurogroup latest:

sorry, wrong copy paste..
Here!
The #Eurogroup welcomes the commitment of the Greek authorities to fulfill the required measures in the course of the week. #Greece
At presser#eurogroup: mandated EWG to reconvene not later than beginning next week to take stock regarding implementation #greece
In short: The Eurogroup gave Greece one week to complete its homework with  foreclosures and other sad things.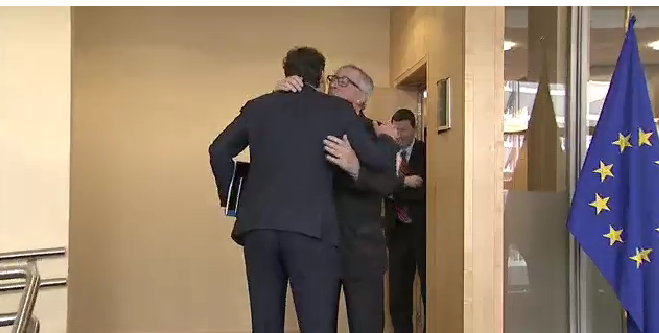 Hugs Hugs Hugs. EC President Juncker hugs & kisses Dijsselbloem before both go on a working lunch in Brussels. They ate Greece and the Refugee Crisis as starter, main course and dessert.
Schaueble will first eat Merkel, then Greece. Or the other way around?