Syriza lawmaker and former government spokesman Gavriil Sakellaridis submitted his resignation on Thursday morning, hours before the Parliament would be called to vote for the bill of prior actions and new austerity measures.
"Sakellaridis raised objections to the bill," Greek media report adding that it was Prime Minister Alexis Tsipras who asked the government spokesman of the first Syriza government and ex Mayor candidate for Athens to resign.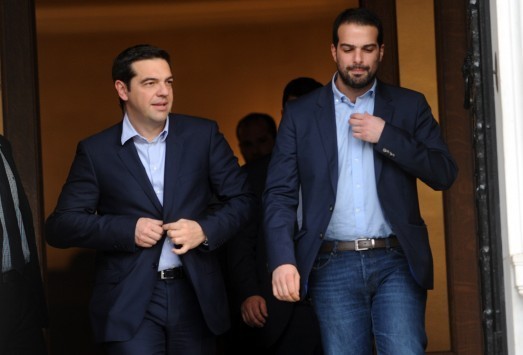 Sources from the PM's office allege that Sakellaridis was not going to attend the voting tonight, after his requests for some modifications on the multi-bill were turned down.
In a statement Sakellaridis said that it was "impossible for him to support the government policy."
Important to note that Sakellaridis returns his parliamentary seat to SYRIZA with the effect that the ruling party will keep the existing number of seats (145).
In the Parliament, Sakellaridis will be allegedly replaced by a Alternate Minister for Administrative Reform Christoforos Vernadakis who did not manage to enter the Parliament in September elections.
However, media stress that "there is not time for the new MP to take an oath today" so that probably the coalition government will go voting with minus one vote, that is with 144 MPs from SYRIZA and 10 MPs from Independent Greeks in a Parliament of 300 seats.
It is not clear whether there will be more rebels in SYRIZA or ANEL during the day.
+++ 12: 20 +++

ANEL chairman Panos Kammenos asked MP Nikos Nikolopoulos to hand out his seat after the later told media that he will not support the bill tonight. Nikolopoulos is chairman of Greek Christian Democratic Party, he cooperated with ANEL before the elections and entered the parliament on a ANEL ticket.
The government needs at least 151 votes to pass a bill.
The multi-bill contains among others, provisions for nonperforming mortgages that threaten with foreclosure thousands of homes and pensions reforms – better say "cuts"- that will threaten current pensioners with cuts of up to 20% and  future generations with pensions below the EU poverty line (more on this later today, once Greece & creditors have agreed upon.)
PS One of the SYRIZA slogans in Sepember elections was "no home in the bankers' hands". But it's the creditors who have the upper hand. *sigh*