Hundreds of thousands of refugees and migrants stranded on the Greek island of Lesvos in 2015, left behind mountains of life-jackets. The orange life-savers have been abandoned at the beaches or waste dumps, dissolving extremely slowly and polluting the environment.
But the volunteers operating on Lesvos had a brilliant idea about what to do with the "plastic garbage". They decided to turn it into practical objects for everyday use: bags, couches, coffee tables, mattresses and original bags.
Together with refugees and migrants who have to spend some time on the island, they set up their workshop in the facilities of an old children's holiday camp and started production.
"The benefits of this effort are many for all of us," volunteer Efi Latsoudi told state broadcaster ERT, "Each item we create is a product of  teamwork. "Some collect the life-jackets, others separate the materials, others sew and make bags."
Furthermore, the workshop gives the refugees the opportunity to do something useful and meaningful.
Driving force of the workshop is designer Tina Kontoleon. She is in charge of creating patterns and designs but her contribution is even more significant for another reason: the workshop functions also as a school for refugees who wish to learn the craft of bag construction. It's something that makes them feel useful and gives them the opportunity to learn something new and even make a living as artisans.
Not only life-jackets are transformed into useful objects, also the plastic boats in which the arrived on the island.
"The internal material we use as layers for the mattresses and that's important as now it's cold," said Aida Simply, a refugee from Afghanistan. Back in his home country Aida had learned the art of sewing and he says he is very pleased to work and create useful objects. "I would like, of course, to have a bigger and better sewing machine so I can sew even more quickly," he says pointing at some of the bags he has created.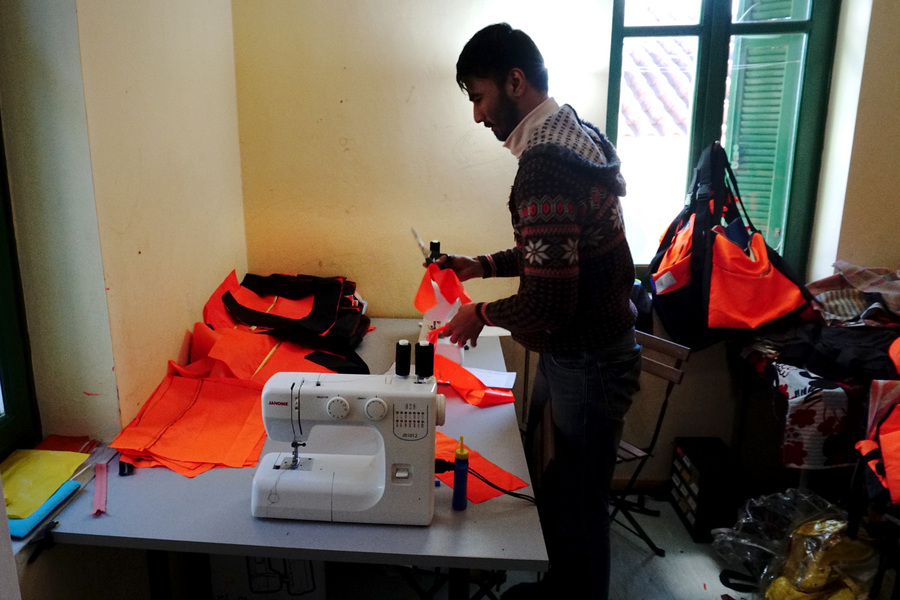 Now the volunteers are searching for opportunities to sell the objects they created so the revenue can be used to aid the refugees. (sources: here & here)
PS I find the idea very original! I might even want to buy such a bag for the sake of it – as a symbolic reminder of an issue that kept busy the whole EU for a year and proved that the alleged powerful institution could not solve the Crisis.