Greek Defense Minister and junior coalition partner Panos Kammenos had an unpleasant experience this morning. On a Chinook helicopter and in the company of high-ranking army and migration officials he took off from Athens and set the route to Kos in the Eastern Aegean Sea. The purpose of ANEL-Chairman Kammenos purpose was to inspect the hot spot that the Greek army is supposed to set on the island; one of the 5 registration centers for refugees and migrants on islands of Lesvos, Chios, Samos, Kos and Leros that Greece is obliged to establish in the EU context of "get migration under control or leave Schengen."
But the residents of Kos did not share Kammenos' enthusiasm to comply with EU threats and blackmails. They gathered in the airport area and raised banners saying "NO HOT SPOTS on our island."
embedded by Embedded Video

YouTube Direkt
Of course, the residents of Kos do not own the island but I remember to have read a couple of days ago that the area where the hot spot should be established was not owned by the Kos municipality.
Army and police vehicles block protesters
Ιt is a private land plot, the "Kantarzi land plot" in Linopoti that reportedly belongs at 50% to the Greek Church – probably the local Metropolis- and the other 50% is shared by two private persons – most likely 'inherits'. One of this private owners reportedly does not want to have his share of land plot occupied by the Greek Defense Ministry, the Armey, the registration officials, the refugees and the migrants  – Schengen in or Schengen out.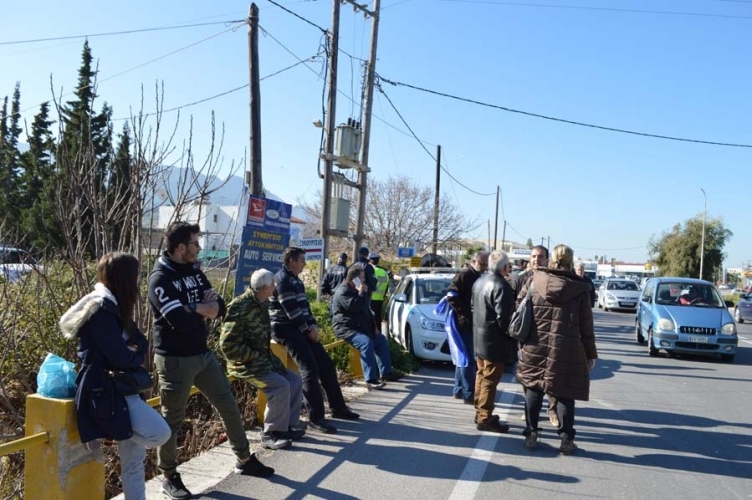 Police has reportedly used teargas to keep the protests within the boundaries of  law & order
As the angry Kos residents had surrounded the airport area, the helicopter managed to land after a short trip to nearby island of Leros, but the Defense Minister did not step out of the aircraft.
UPDATE: According to latest information from local media, the Defense Ministry Chinook landed on a different spot than originally planned: in a field with green grass, wild growing bush and grassing cows. The Minister then inspected another land plot that could be suitable for a hot spot.
The adventure of the Greek Defense Minister ended without inspection of the Kos hot spot. The Ministry and the locals have to work out a solution. The Defense Ministry that is in charge of the establishment of the hot spots on the islands had promised to have them ready by 15. February 2016.
PS  oh, these local interests…