Three men, holders of British passports, were arrested in the town of Alexandroupolis near the Greek-Turkish border on Saturday. All three suspects were reportedly heavily armed and two trailers they were driving were transporting dozens of weapons and thousands of bullets.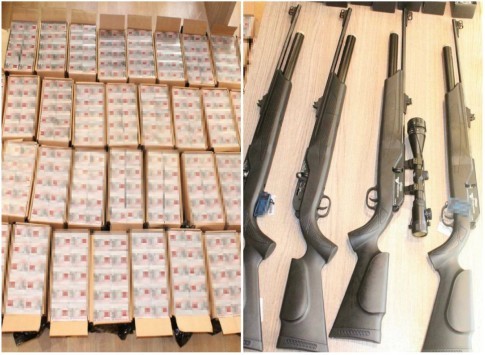 Bullets & firearms hidden in the two trailers – Picture released by Greek Police
The first arrest occurred on Saturday, with the Greek Coastguard to have handcuffed two men, aged 22 and 28 years old, Iraqi-born and holders of British passports. They were reportedly arrested driving a trailer carrying dozens of guns (3 Magnum revolver 357 and some 15 revolver 22) as well as 27,000 bullets.
The trailer had been allegedly "parked at the port of Alexandroupolis for 2-3 days," while the men were staying in a local hotel. According to Greek media, the local coastguard had the two men under surveillance due to "suspect moves." Brought before the prosecutor the men did not originally give information about their destination or any explanation as to why they were heavily armed. However, they reportedly hinted to a third man, also holder of a British passport. Police arrested him at the Kipoi customs point to Turkey. The third Kurd, 39, was also driving a trailed and was in possession of four Kalashnikov, more than 200,000 bullets and night binoculars. One of the suspects was in Alexandroupolis since beginning of February.
It looks as if none of the three was on Interpol's Wanted list or otherwise known to European authorities as "terrorists." The three denied that they had any connection to the Islamic State and they apparently claimed during the interrogation that they were bringing the weapons to a group of Kurds in Syria.
According to latest reports by state ERT TV (12 o' clock News):
the three suspects are Iraqi-born Kurds with British passports, Kurds fighting against the Islamic State.
Experts from counter-terrorism and the national intelligence are reportedly heading to Alexandroupolis. Local Alexpoli.gr, implies that also 'foreign experts' rush to the city in the Greek North.
UPDATES

Greek police found documents suggesting the route of the three suspects to Greece:

a domestic flight ticket Diyarbakir-Istanbul (Turkey), dated Jan 10th 2016

a receipt from a shop in Germany, dated Jan 25th 2016

a ferry ticket Italy – Igoumenista port (Greece) dated Feb 2nd 2016

a highway toll ticket from Malgara, near Thessaloniki

There are indications that the three bought the weapons and ammunition either in Germany where they were a month ago or in Austria. They have not named so far the seller or the final destination of the weapons.

They have reportedly told police that they would earn 3,000 euro per person for the delivery of the arsenal and that the seller gave them the cars for moving the trailers around as a "present".

sources: Mega Tv 2 pm news, ERT TV 3 pm News
The suspects declare that they are translators. And they want interrogation to be held in Kurdish and not in English. Interrogation continues.
The arrests occur just two weeks after two Isis suspects with Swedish passports were arrested also in Alexandroupolis, some 15 km away from the Greek-Turkish borders in north-eastern Greece.The two men, one from Bosnia and one from Yemen were carrying one machete and military uniforms in their luggage. The man from Bosnia was known to European authorities to have connections with the Al-Qaida in the Balkans and he had also convicted.
One of the trailers parked in Alexandroupolis port. For pictures and latest updates in Greek –> Local media: faros24.gr and Alexpoli.gr
What is this? Is the Evros river between Greece and Turkey, the crossing point for weapons to Syria? Greek authorities should look into it more closely.
More pictures of findings released by Greek Police here.