More than 5,000 refugees have been trapped in the 'neutral zone' at the borders northern borders of Greece, after FYROM closed its gates to Afghan refugees. The same has reportedly done by Serbia and Croatia. FYROM's decision has a domino effect, as thousands of refugees arriving from the islands to Athens are not allowed to leave for the borders and Greek authorities may decide to not allow the transfer from the islands to mainland.
The Domino Effect

Austria introduced quotas for refugees -> Serbia closed its borders for Afghans -> FYROM closed its borders to Afghans & imposed stricter controls to Syrians & Iraqis -> thousands stranded in Idomeni & Piraeus in Greece -> thousands will be stranded on the Greek islands
Athens is angry citing the EU Leaders' Summit conclusions. Migration Minister  Yannis Mouzalas described the decision as "against the agreement."
Situation at the borders – Idomeni
Idomeni: Afghan father with baby – what will happen to these families? via @MSFGreece
According to Athens News Agency, FYROM customs authorities demand that Afghan refugees have passport or ID with them and consider the "papers issued by the Greek authorities" after the refugees' registration in the Hot Spots as no longer sufficient. Media report that FYROM authorities have also tightened controls on Syrian and Iraqi refugees. There are unverified claims that FYROM authorities ask passports also from Syrian and Iraqi refugees and that they also proceed to body search. The result is that the border crossing takes place in extraordinary slow pace. State ERT TV reported that only 200 people had crossed to FYROM by Monday noon.
with the effect that thousands of people have been stuck at the borders. Greek Migration Minister Yannis Mouzalas described the decision as "against the agreement."
The masses of people dramatically increased in the area after FYROM's decision on Sunday. Dozens of buses brought more than 3,000 refugees from the south of Greece.  Awaiting in the buses to get the 'green light' by police to continue their way to the border, many people decided to reach the border on foot and walk 20 km.
The FYROM decision came without previous notification. "We have been waiting that the afgans will be affected by such measures, but we expected previous warning," Antonis Rigas, in charge of "Doctors Without Borders" in Idomeni told Praktoreio  104.9 FM on Monday morning. Rigas stressed that "any Syrians and Iraqis have lost ID cards or passports and under the new circumstances they cannot cross to FYROM."

He assured that the organization can provide the people with provisional shelter and food, however he underlined that if the situation continues, "the police will send them back to Athens."
Situation in Piraeus
Meanwhile, 4,363 refugees are trapped in Piraeus and cannot leave for the borders. Three ferry boats arrived in the port of Piraeus this morning bringing a total of 4,363 registered refugees from Lesvos, Chios, Samos, Kos and Leros. Another ferry arriving tonight is expected to bring another 1,500. That is a total of 5,863 people who cannot leave for the borders.
The refugees at the port are currently provisionally hosted in a building of Port of Piraeus and are provided with food and clothes by non-governmental organizations.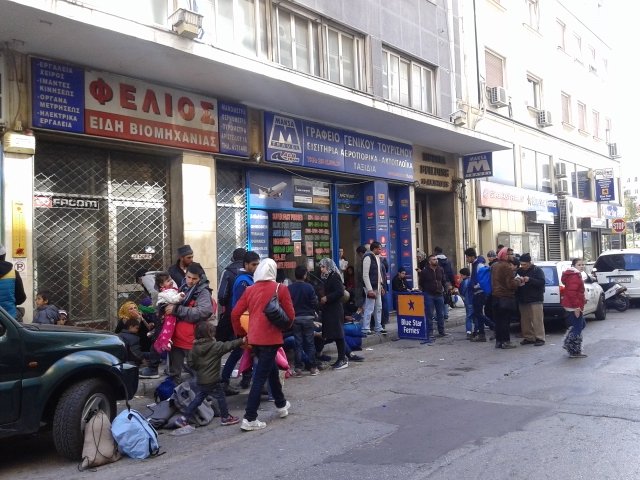 Piraeus: Refugees seeking to buy a ticket for Idomeni
Greece angry
Migration Minister Yannis Mouzalas expressed his anger over FYROM's decision especially just two days after the decision of EU Summit to not close the borders.
However, fact is that the EU leaders did not agreed upon this, it was just a verbal reassurance by German Chancellor Angela Merkel and French President Francois Hollande to Prime Minister Alexis Tsipras that "there would be no borders shut down and no change in the borders-Schengen status quo until March 6th," when the extraordinary EU Summit on Migration with the participation of Turkey will take place.
According to FYROM authorities, Skopje tightened crossing for Afghans from crossing after Serbia decided to not allow Afghans enter, and thus without explanation.
European Parliament President Martin Schulz warned that "FYROM closes the borders and cuts the Balkan Route, then Greece will be a parking for refugees."
Fact is with the unilateral closure of borders Europe rather worsen the problem than add to its solution.
PS after all, it's not "borders' shut down", it's just that refugees are not allowed to cross… One has also to take into consideration the number of migrants who keep arriving in Greece.