Families with children, pregnant women, fragile elderly, people with disabilities … They picked up their belongings and started to walk. A long march, a 500-km Walk along Greece's national highway to the north, the borders with FYROM.
Several hundreds refugees started to walk towards Greece's borders to FYROM on Wednesday, after the buses taking them from Athens to the north were not allowed by the police to drive further than the city of Lamia, in central Greece.
"We have been traveling for more than a month. We are tired, sick, have no money. We want to continue our journey. We didn't get scared of the sea, we are not scared of walking," one of the refugees tells local media in Lamia.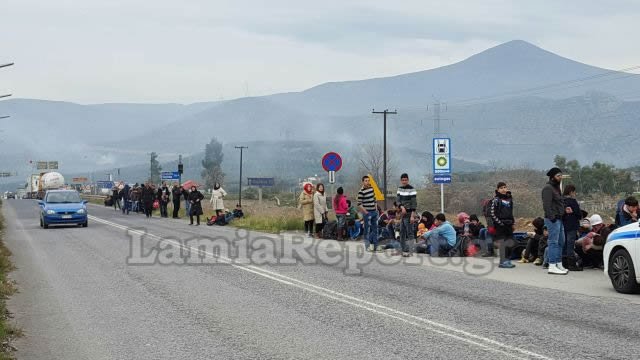 More than 30 buses have been reportedly ended the refugees' transfer in central Greece after FYROM closed its borders to Afghan refugees on Sunday, imposed stricter controls to Syrian and Iraqi refugees, thus slowing the pace of entrance. The effect: horrible! Thousands of people stranded in the border area and Idomeni on the Greek side, and more thousands have been stranded in Piraeus and Athens as ferries keep bringing refugees and migrants from the islands.
Some of them follow the government's instructions and take them to relocation camp in Schisto in western Attica, but others try to find ways to continue their journey.
Video: reaching port of Piraeus with the ferry
embedded by Embedded Video

YouTube Direkt
Refugees from Afghanistan and migrants form Pakistan, North Africa and other countries are not allowed to enter FYROM, therefore they are transferred to relocation camps – and will be probably allowed to stay in the hot spots on the islands for more than 24 hours.
Video: volunteers distribute bananas to refugees & migrants stranded in Piraeus.
embedded by Embedded Video

YouTube Direkt
Refugees pay 50 euro to be taken from Piraeus to Idomeni at the borders. But when police blocks the buses, refugees protest. they were reportedly chanting "Give us the money back!" when police blocked a bus in Piraeus this morning.
If not by bus, then on foot!
Refugee kid walking – carrying the future in his hands
A refugee in Lamia says that they have been in the area for 4 days and that they don't believe that the borders are closed. "Our friends lie to us when they say that borders are closed."
According to local media, police advised them to stay in the area, but nothing can stop their determination to leave Greece. There are rumors, they might also head to Albania, especially after the country's Foreign Minister said yesterday, the country could host some refugees even though only temporarily.
Local police has issued a warning to drivers to be careful as people are walking in main roads and highways.
more pictures & videos: here, here and here