Greek Migration Minister Yannis Mouzalas banned television crew and journalists and journalists from covering the situation in refugee centers. In a statement issued on Monday, Mouzalas said:
"After consultation with the coordinators of reception centers both on the islands and in Greek mainland and until further notice, no permission will be given to television crews and reporters to enter such premises that hosts refugees. Thank you for your understanding."
Mouzalas did not elaborate on the reasons for this decision.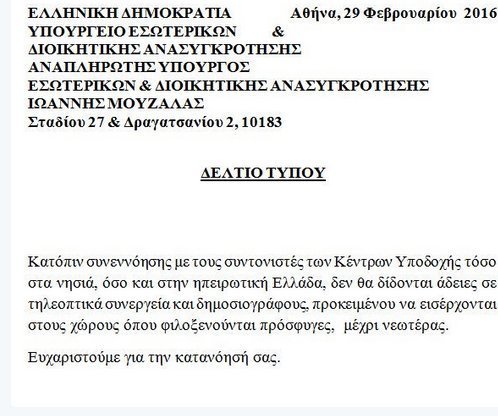 I can imagine several reasons, with one of them being that several refugee centers are being operated by the Army – so security reasons -. On the other hand, a fair trade would be "report/filming" vs "a box of donations".
As somebody who has covered 'refugee issues on the spot' in the past, I can say that it can easily turn into a controversial issue: At one hand, reporting about the plight of refugees draws the attention of a broader public to a certain situation and sensitizes. This is important. On the other hand governments and established NGOs do not like when reporters point the fingers on things like "shortage of this…", "lack of that..", "no organization here…", "no toilets there…" etc etc.
The plight of people wandering around and sleep on the floor or soil is a difficult task both for governments to organize a relief and for reporters to cover for these reasons: governments mostly lack experience to deal with such situations, reporters normally are not aware of the general picture.
These  peacefully sleeping kids would be refugee kids in a dream world – sorry, cannot read who is the artist.
PS I don't agree with Mouzalas' decision, I just want to point out at some aspects of covering the Refugees's plight.