Member of far-right Golden Dawn was expelled from the European Parliament on Wednesday, for racist remarks. European Parliament President Martin Schulz excluded GD MEP Eleftherios Synadinos from a plenary session, when the MEP in an unprecedented move used racist remarks against Turkish people.
"Turks are like wild dogs,"  "dirty and polluted Turks" said Synadinos, a former army lieutenant general, said earlier today during a debate on the EU-Turkey Summit.
"As it has been expressed in scientific literature, the Turks are dirty and polluted. Turks are like wild dogs when they play but when they have to fight against their enemies they run away. The only effective way to deal with the Turks is with decisive and resolute attitudes", said Synadinos.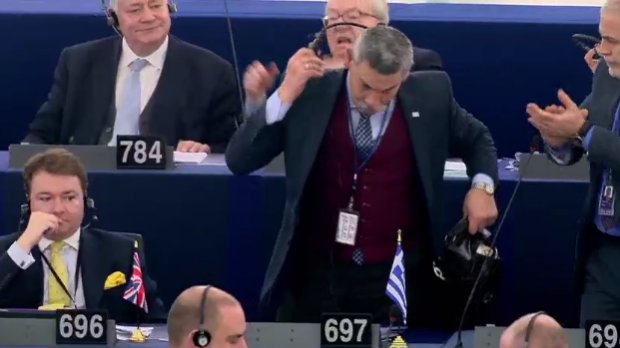 As some MEPs tweeted, "President of the European Parliament Martin Schulz excluded a Golden Dawn MEP from the chamber for appalling racist remarks. Ushers remove him under protest."
Video: Martin Schulz decision, tells Synadinos to leave the chamber
embedded by Embedded Video

YouTube Direkt
Schulz's decision to exclude Synadinos from the chamber was welcomed  by MEP's applaud – only the Le Pen group did not applaud.
Martin Schulz:
"This morning there was an incident in the Chamber and I believe that the European Parliament should not fail to react to it. We absolutely must react to the incident. I'd like to quote the sentence, which, firstly, I don't think [is] acceptable and secondly I think … must be sanctioned", explained President Schultz, which quoted Syndino's sentence above, for the record.
At the beginning, Synadinos refused to follow Schulz's call to leave the session, but he complied after ushers approached. He took his papers and left the Plenary, while the other two fellow Golden Dawn MEPs shouted at the President demanding to take the floor, calling martin Schulz a "fascist".
Martin Schulz said also that "Synadinos will be heard on this incident."
Last week he and another GD MEP  caused  an incident and shouted "there is no Turkish minority" in Greece, during a EP conference meeting.