The first bus full of Syrian refugees left the Idomeni camp for a camp in Veroia at 5 o' clock on Friday afternoon. A total of 20 buses hired by the Greek authorities have been waiting since the morning to take refugees and migrants to accommodation centers in the North of Greece.
A bit later other buses left Idomeni as well, it seems that refugees are separated according to countries of origin: Syrians are been transferred to Veroia, Afghans and Iraqis into two different camps in Katerini.
picture via @MSFGreece
As of Friday evening, it is still unclear, how many refugees will leave Idomeni.
A young Syrian woman who has been in Idomeni for 39 days, told AthensNewsAgency that as conditions in the camp have become intolerable, she wants to move to another camp and give the opportunity to her child to live in better conditions for as long as they need to wait in Greece until they can continue their journey to northern Europe.
But many refugees are reluctant. They prefer to spend their days and nights in rain and cold than move away from the border to FYROM; they hope the borders my open again and they don't want to miss the chance and move to their wish destinations in the north of Europe.
According to UNHCR Marco Buono in Idomeni so far 400 people, Syrians in the majority, have registered on the lists to move to another camp.
UPDATE: by 10 pm Friday, 6 buses left Idomeni for Veroia and 1 for Katerini.
600 people have registered by UNHCR
Surreal: Bus labeled "Crazy Holidays" takes the people below to refugees camp.
pictures via Twitter: @foto_Is and @Fotomoviento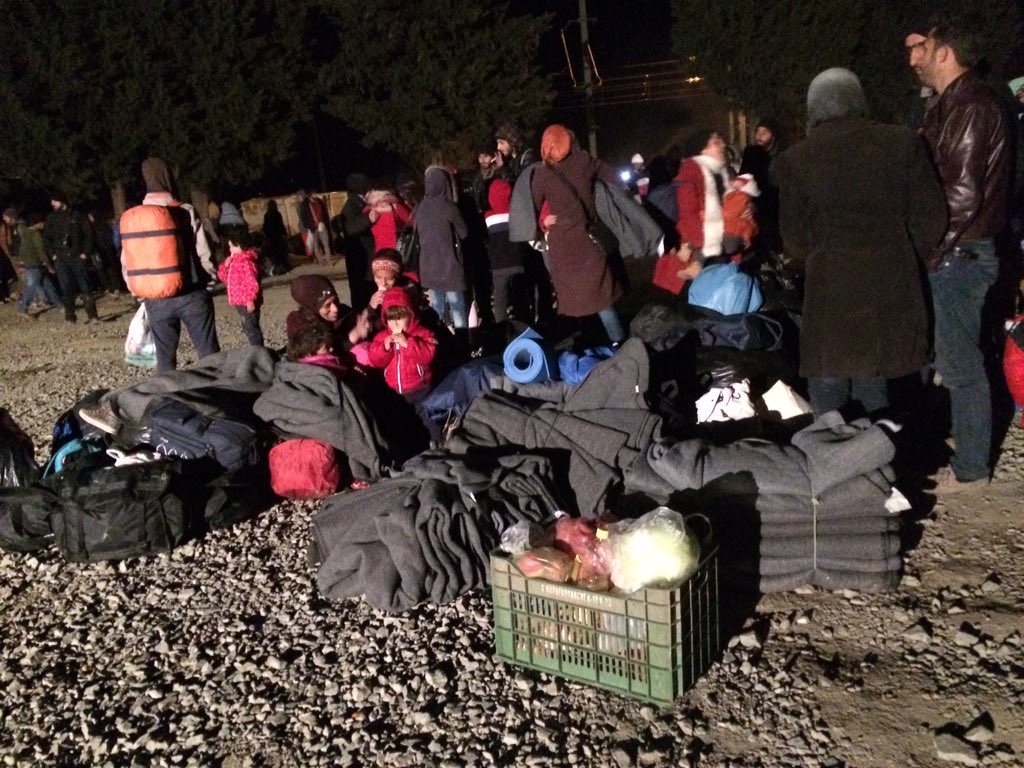 The buses are supposed to transport 800-1,000 refugees to three sites. According to Greek authorities, these camps or accommodation centers are open and the refugees have freedom of movement.
Not an easy task: While some refugees groups tried to hinder buses to leave Idomeni, when the first bus with 50 refugees arrived in Veroia camp, angry residents had gathered outside the camp protesting.  
The 'detention centers' are the former Hot Spots on the islands, and newly arrived refugees and migrants are not allowed to leave.
More than 12,000 refugees and migrants have been trapped to Idomeni camp, after FYROM closed the borders. On Thursday, spokesman of Greek Refugees Coordination body, Giorgos Kyritsis, revealed that 30,000 additional reception places have to be established. The government wants to have emptied Idomeni camp before the Greek Orthodox Easter on May 1st.