Tension dangerously rose at the port of Piraeus on Wednesday, when Greek officials went to inform the refugees and migrants camping there that they have to be transferred to "accommodation centers."
The refugees got angry and launched a sit-in in front of the officials and representatives of the Greek Coast Guard. One man was briefly detained for beating at a car of a driver who was trying to pass through the mass of  people.
The detention raged the refugees.
UPDATE: But the most shocking scene took place when a man took a baby and held it high and even threatened to throw it at the cost guard men.
According to latest information, the baby girl is 2 months old, the man is the father and the family is from Afghanistan. He threatened to kill "all of his five children."
The man told media that he was a relative of the detainee and that he reacted to the detention. " I reacted. I took the baby in my hands. First. I will kill my five children, then I will kill myself."
The Greek Coast Guard has ordered an investigation, as coast guard man seems to push the man away.
Terrified from the action was not only the baby but also the officials and refugees standing by. The crying baby returned in the parent's who tried to calm it down.
The majority of the 4,720 people camping at the port for the last weeks do not want to move away fearing they would lose connection to the outer world and may miss the chance to cross if the borders would open.
The Greek government is determined to have them out of the port and thus before Eastern on May 1st which marks the launch of this year's touristic period for the Greeks and thousands are expected to use the port of Piraeus for their Easter holidays.
Greek authorities have not exclude also the use of force to have the refugees and migrants out of Piraeus. The refugee who was briefly detained told media that he was told "we have to go or the police will remove us tomorrow."
At the same time, "some unknown" still try to convince refugees to stay at the port of Piraeus. telling them that the borders would open soon. Greek authorities have not managed so far to find out who is behind such actions and what it the utter purpose.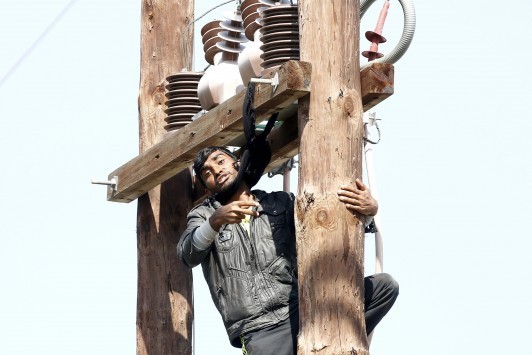 Wednesday noon, a migrant from Pakistan attempted to hang himself from an electricity column in the detention center of Moria on the island of Lesvos. He was convinced to give up by other migrants.
Deportations came on hold on Tuesday and Wednesday, after thousands rushed to submit asylum application in the hope to win time. Deportation to Turkey are expected to resume on Friday.