For one more time, The Holy Light mysteriously appeared in the sealed crypt of Christ Grave in Jerusalem. Thousands of Greek Orthodox had gathered in order to light their candles directly from Patriarch of Ierosolyma Theophilos, the only high-ranking official of the Greek Orthodox Church to have access to the crypt.
Believers had flocked to the church as early as 5 o'clock in the morning.
In an atmosphere of joy for the Resurrection of Jesus Christ, the Holy Light was taken again to Greece, to the faithful who share the same belief.
The Church of Christ Grave in Jerusalem after the Holy Light ceremony
Representative of the Greek government was Deputy Foreign Minister Giorgos Amanatidis, who received the Holy Light by the Patriarch of Ierosolyma to bring it to Greece.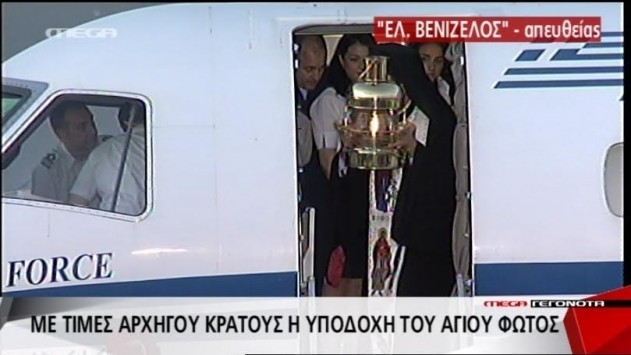 As usual, the Holy Light was welcomed as if it was a state leader and Defense Minister Panos Kammenos was at the Athens airport Eleftherios Venizelos for the official ceremony.
Airplanes from the Aegean and the Olympic airlines will carry the Holy Light from Athens to 17 destinations across the country, priests will distribute it to every church.
At 12 midnight Saturday, Greeks will gather in the churches to celebrate Jesus Resurrection.
While the origin of the Holy Light remains a mystery – The ways of the Lord are known to be unknown, if you are a believer – critics complained again about the official ceremony staged by the Greek government. The majority of left-wing SYRIZA MPs and the Prime Minister may be atheists, but coalition government partner Independent Greeks are devoted Christians.
Καλή Ανάσταση και Χρόνια Πολλά!
Happy Resurrection & Many Happy returns
PS Atheists are miserable and want to spoil the fun!