On Coup night, Turkish President Recep Tayyip Erdogan was allegedly advised to flee to some Greek island. This has been claimed by Serkan Yazici, the owner of the hotel where the Erdogan and his family were spending summer holidays in Marmaris in south-west Turkey. The Turkish President had apparently left   the hotel 15 minutes before a squad of special commandos belonging to the coup plotters entered his room in the hotel.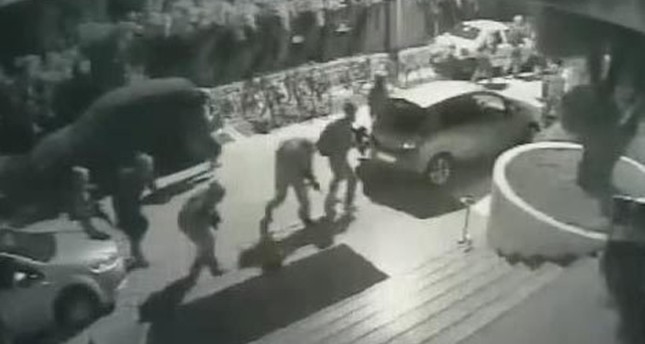 Coup soldiers caught on security camera storming the hotel President Erdoğan was staying at during the nıght of the failed coup attempt on July 15.
Speaking to Turkish daily Posta, Yazici said that after Erdogan was informed about the ongoing coup attempt and while he was in consultation with his advisers, he offered him to flee to Greek islands. Marmaris is near the Greek island of Symi and not far way from Rhodes.
"I offered the president to take him to the Greek islands but he got upset with my offer and said 'what will I do in the Greek islands? I'm asking you, how to go to Istanbul'."

15 coup officers from the Special Forces Command, 12 soldiers from the Search and Rescue Team, two from Underwater Offence (SAT) commandos went to the resort town of Marmaris and bombed locations the president had been at shortly after he left.

Around 30 soldiers in helicopters descended on the hotel on ropes, shooting in an apparent attempt to seize the president."
English via Turkish Daily Sabah.com.tr
On coup night, several rumors claimed that Erdogan had asked asylum in Germany which was rejected, others that he was leaving Turkey and was flying to Italy. At the end of the night, Erdogan landed in Istanbul amid crowd cheering their leader.
What I learn form this Erdogan on Greke islands story is that the hotel owner has the means to illegally transport Turkish citizens to Greece.
Can you imagine, Erdogan was arrested and taking to court for illegally entering Greece? He would probably get 2 months imprisonment with 3-year suspension, the same punishment the 8 Turkish Military officers received by a Greek court for having landed a Black Hawk helicopter in Alexendroupolis, falsely claiming that "the engine was on fire."
PS I wonder what's the next weird story we will hear form Turkey about the dramatic coup hours and the President.