Brainless Greek fascists raised a banner praising the massacre of Srebrenica in 1995 where 8,000 Muslims Bosniaks, mainly men and boys were killed by the Serbs. During the match between Greece and Bosnia national teams, Greeks raised a banner reading in Serbian:
«Noz, zica, Srebrenica» (knife, wire, Srebrenica)
On Monday, the banner triggered an outrage in Greece with the deputy Sports Minister to call the banner holders "fascists" and to urge Greek police to find them and punish them thus forbidding their entrance to football matches.
What is odd is that neither the authorities, not the police nor the football officials at Karaiskakis Stadium in Piraeus were apparently aware of the banner during the match.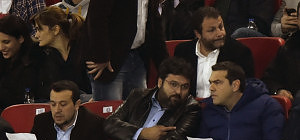 Prime Minister and some other government ministers were also attending the match for the Euroleague.
It was the Bosnian media who published the picture thus triggering an outrage in Bosnia and in Greece.
As expected the Bosnian Football Federation filed a complaint to UEFA.
Monday noon, the Greek Football Federation apologized for the incident.
The Srebrenica massacre, also known as the Srebrenica genocide  was the July 1995 genocide of more than 8,000 Muslim Bosniaks, mainly men and boys, in and around the town of Srebrenica during the Bosnian War.
The killings were perpetrated by units of the Bosnian Serb Army of Republika Srpska (VRS) under the command of General Ratko Mladić.
In 2004, in a unanimous ruling on the case of Prosecutor v. Krstić, the Appeals Chamber of the International Criminal Tribunal for the former Yugoslavia (ICTY), located in the Hague, ruled that the massacre of the enclave's male inhabitants constituted genocide, a crime under international law.