Two protest rallies started short after 5 o' clock in the afternoon against the visit of US President Barack Obama in Greece.
Protesters are marching towards the US embassy, police implies it won't allow them to reach the embassy.

With the slogan "Obama is not wanted in Greece" trade unions, anti-authoritarians, leftist and student organizations and political parties like the Communist KKE and the Grexit-supporters Popular Unity (LAE) and ANTARSY gathered in Omonoia Square and outside the Athens University and the Polytechnic School to demonstrate against "imperialist wars," the NATO, the European Union, the IMF and the Euro.

Present at the protest is also the general secretary of KKE Dimitris Koutsoumpas, and LAE chairman, an ex SYRIZA minister who left the governing party after the government signed for the 3. bailout agreement.
Some protesters' groups plan to march to the US Embassy although it is forbidden by the police.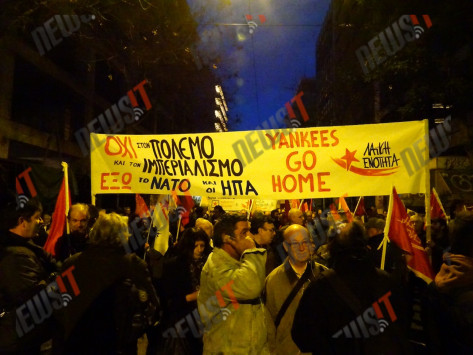 sources: enetpress.gr, newsit.gr
Some media report that already 3,000 protesters are marching towards the SU embassy.
The city center around Syntagma is closed to traffic, gatherings have been banned.
Around 7 pm, clashed between protesters and riot police broke out, a storm of molotov cocktails, stones, wooden pieces, tear gas and sound flares turned the area between Athens University and Polytechnic School into a nightmare.
Protesters clash with police, as Obama enjoys dinner with Greece's political leadership (picts, vids)