Clashes between anti-Obama protesters and riot police broke out in the city center not far away from the Presidential mansion where US President Barack Obama has been enjoying dinner with Greece's political leadership.
Protesters threw molotov cocktail bombs and stones at police, with latter replied with teargas and sound flares.
The slashes started short after 7 p.m., when protesters attempted to enter in the so-called "No demonstration zone" in the center of Athens.
Garbage bins were set on fire on main avenues like Panepistimiou and Stadiou, in the district of Exarchia.
Some protesters started to march towards the US embassy, which was forbidden.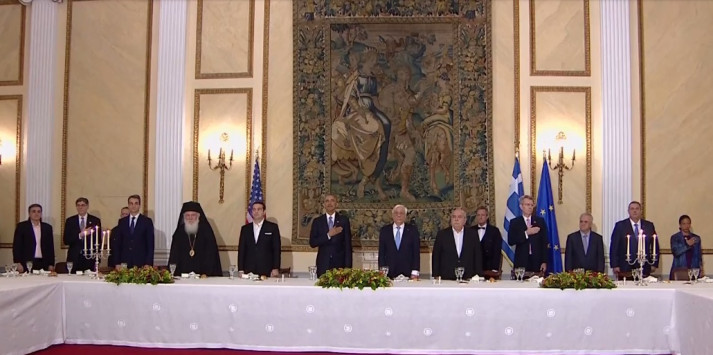 At the presidential Mansion before the dinner
The clashes continue also after 8 p.m.
Several thousands protesters from the communist and leftist parties and organization, unions and students gathered in downtown Athens chanting slogans against Obama, the USA, the NATO, the EU, the IMF and the Euro.
pictures several sources also via Twitter
There are reports of several detentions.