It was a "party" for angry and frustrated locals: they brought dozens of bags full of rotten garbage and left it in front of the town hall of Zakynthos, the island on the Ionian Sea. Some of the angry locals went so far to throw eggs. oranges and tomatoes directly at the walls of the headquarters of the municipality.
Fed up with the situation on the island that sees tons of garbage mounting on the streets in the last 20 days after the blockade of the landfill Skopoy by the residents of Kalamaki, the residents saw no other way of protest than bring the garbage right under the nose of the esteem members of the town hall.

"They were 70 to 90 people who committees these acts," Zakynthos mayor, Pavlos Kolokotsas, told the Athens News Agency and said that the landfill will be used for 2-3 more months, until the full procedures for the transitional management of waste will start. He added that they wait [for the usual bureaucratic mechanism – see: loads of] documents that will allow a mid-term solution.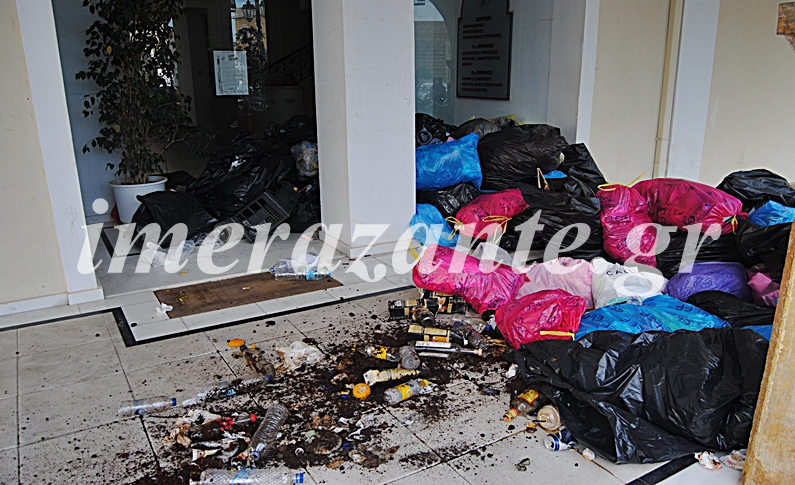 Zakynthos' Medical Association called on local authorities and the central government to immediately find a solution, warning that "really extensive concentration of waste can be a source of pollution or contamination."

While local and central government bodies exchange letters of warning and good will, the beautiful island on the Ionian Sea has turned into a kingdom for rodent.
PS I remember we had a similar situation in nearby Corfu last year: also there, the locals near the landfill had blocked it, the garbage formed stinky mountains, while the municipality and the central government were seeking 'mid-term solutions'.