Russian ambassador Andrey Karlov was shot in Turkish capital Ankara short after 6 o' clock Monday afternoon. He was delivering a speech at an exhibition "Russia through Turkish eyes", when a man started to fire wildly.
Ambassador Karlov was seriously wounded. He was first treated on the spot, it is not sure he was taken to the hospital on time.
https://www.youtube.com/watch?v=5TgJ8oA32-g
The attacker had entered the art exhibition allegedly showing a police ID.
He is understood to shout during the attack "Allahu Akbar" [God is Great] and "Do not forget Aleppo and Syria. Those responsible will pay."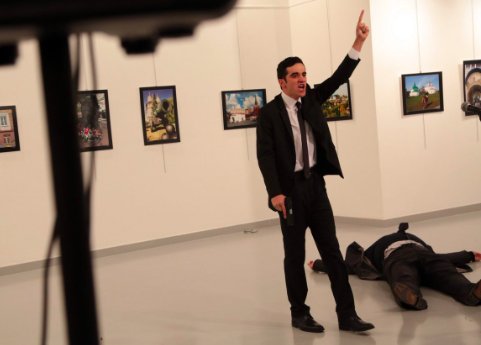 According to international media, one and a half hour later, the Russian Foreign Ministry confirmed reports and announced that ambassador Karlov had died.
It is not clear whether more people were wounded.
It is not confirmed whether security forces shot down the attacker, who was reportedly a Turkish policeman assigned at the riot police squads.
Assassin of Russian ambassador Andrei Karlov reported to be Turkish police officer, Mert Altintas. #Ankara #Turkey #Russia
Some Turkish media claimed that the policeman was assigned to Ambassador's personal security, other that he was off duty or that he was member of Erdogan's security forces.
Currently there is an influx of information, many of them unconfirmed.
So far there has been not any official announcement by Turkey.
Russia has issued a statement describing the fatal and unprecedented attack as an "act of terrorism".
Karlov (right) right before the shooting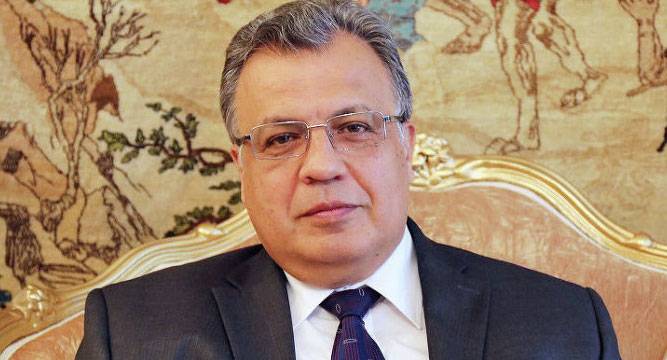 Ambassador Andrey Karlov, 62, was assigned to Ankara since 2013.
Now everybody is wondering about the impact of the shooting on the Russian-Turkish relations.
UPDATE 1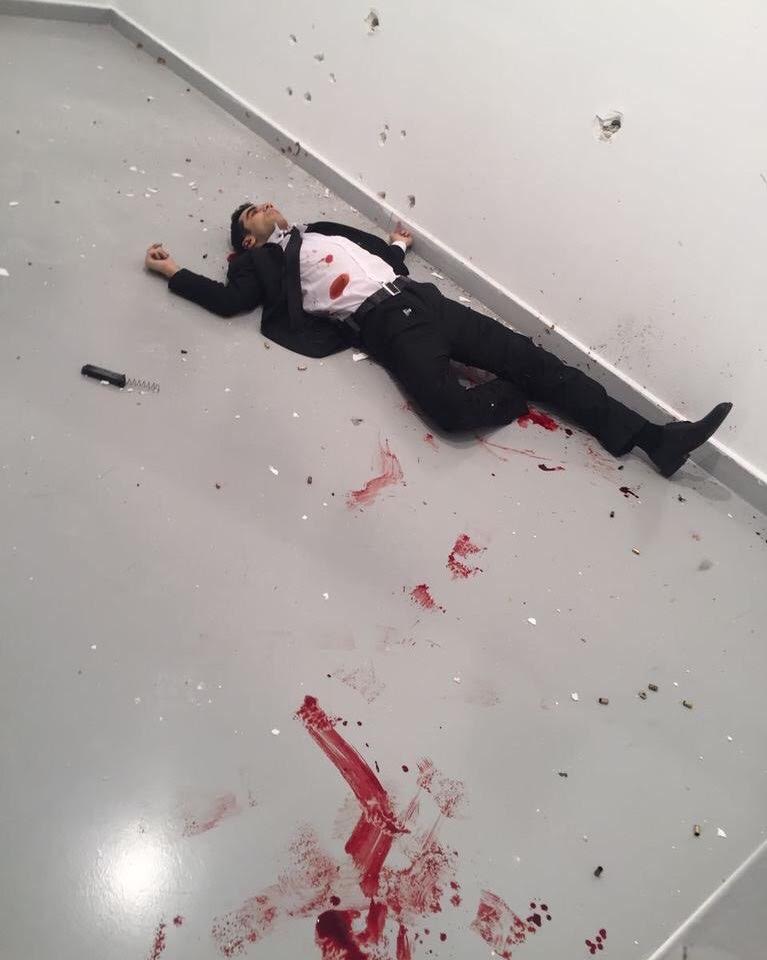 Pictures show that the attacker, Mert Atlintas, 22, was shot down as well.
UPDATE 2
Short after the attack, the US State Department issued a warning
Ankara, #Turkey – ongoing security incident near US Embassy. All US citizens should avoid area near Embassy compound until further notice.
UPDATE 3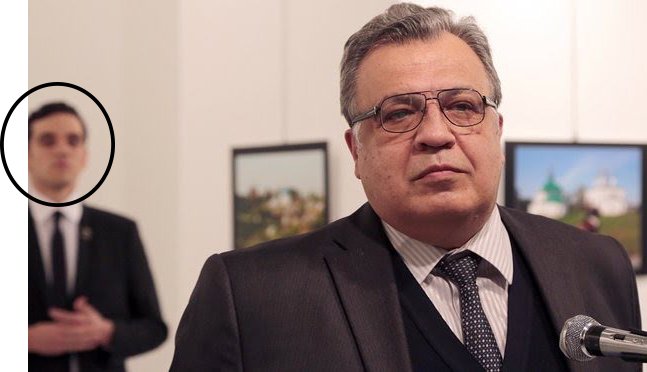 The assailant was standing right behind Russian Ambassador to Ankara Karlov moments before opening fire
PS I would not wonder, if Ankara will claim that the attacker was a …Gulenist and not what it seemed to be an Isis.