Two days of snow and the chaos broke out in Greece: hundreds of vehicles were trapped in highways, villages have been snowed in, thousands of households across the country are without heating, electricity and water supply.
Two people lost their lives due to the harsh weather conditions. State of emergency was declared for two islands in the Sporades group after heavy snowfalls damaged the power network causing outages in electricity and mobile phone connections. In Prolemaida, the heart of power production of Greek Public Power Company, thousands of residents are without heating due to damage in power supply, while temperature has reached -17° Celsius.
More than 150 people were rescued by firefighters in the snow affected areas.
In Thessaloniki, thousands of households and shops are without water for second consecutive day as the water network broke down due to frost.
A man in a mountain village in Nafpaktos, Western Greece, went missing on Saturday morning and he was located 8 hours later. the 77-year-old passed away on the way to the hospital most likely due to hypothermia.
A 78-year-old woman in Komotini, North-Eastern Greece, was found dead in her home. The previous night she had set fire in a brazier. Most likely she died after inhalation of the toxic fumes.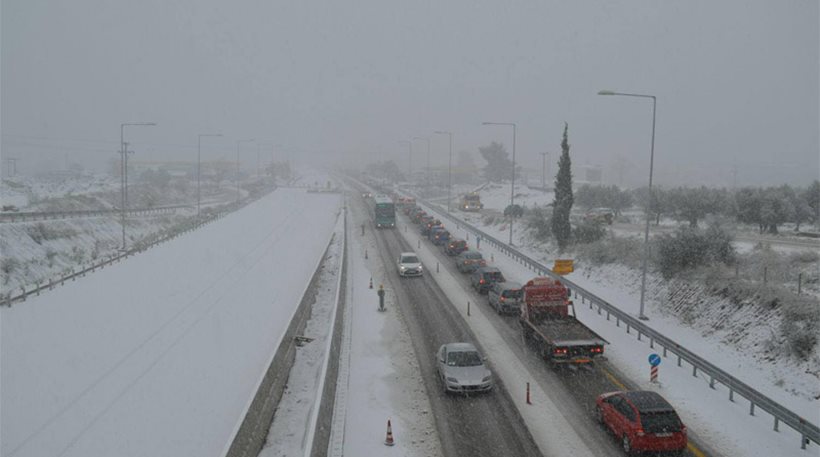 The State of Emergency has been declared for the island of Skopelos on Sunday morning, while the same is due during the day for the neighboring island of Alonissos.
video: Snow fall at Skopelos port
https://www.youtube.com/watch?v=YrW1Uy3DR2g
In the capital of Skopelos, Chora, snow reached one meter and in some villages in Alonissos two meters. In both islands movement is almost impossible. Snow removing vehicles have been set out of operation due to harsh weather conditions.
Residents in Alonissos has been suffering from extreme power outages reaching in some areas three days. the power outage has affected also the water network with the effect the water supply collapsed.
More than 20 villages in Euboia are snowed in and remain without electricity and water. Approach to and from the general hospital of Kymi seems also almost impossible, according to state broadcaster ERT TV Sunday noon.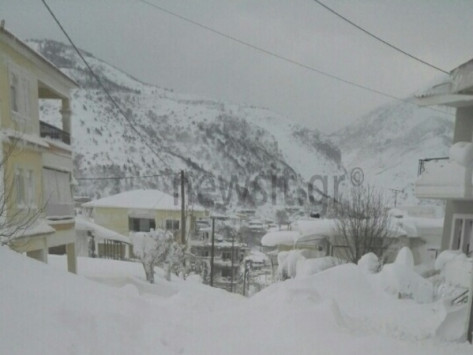 Kymi
15,000 households in the town of Ptolemaida, Western Macedonia, have been without heating since the early morning hours of Sunday. Sharp temperature drop down to -17° C  damaged the operation of two medium and extra high voltage units that supply the city with hot steam for distance heating.
With its coal (lignite) mines and its power stations, Ptolemaida is known to be the heart of Greek Public Power Company (DEH). According to latest information, the damage is expected to be restored in one of the units and heating to partly return in the city by 6 p.m. Sunday.
Video: Saturday snow in national highway – Aigio
For more than ten hours, hundreds of vehicles got trapped in area Aigio in the new Corinth-Patras national highway due to heavy snow fall in northern Peloponnese.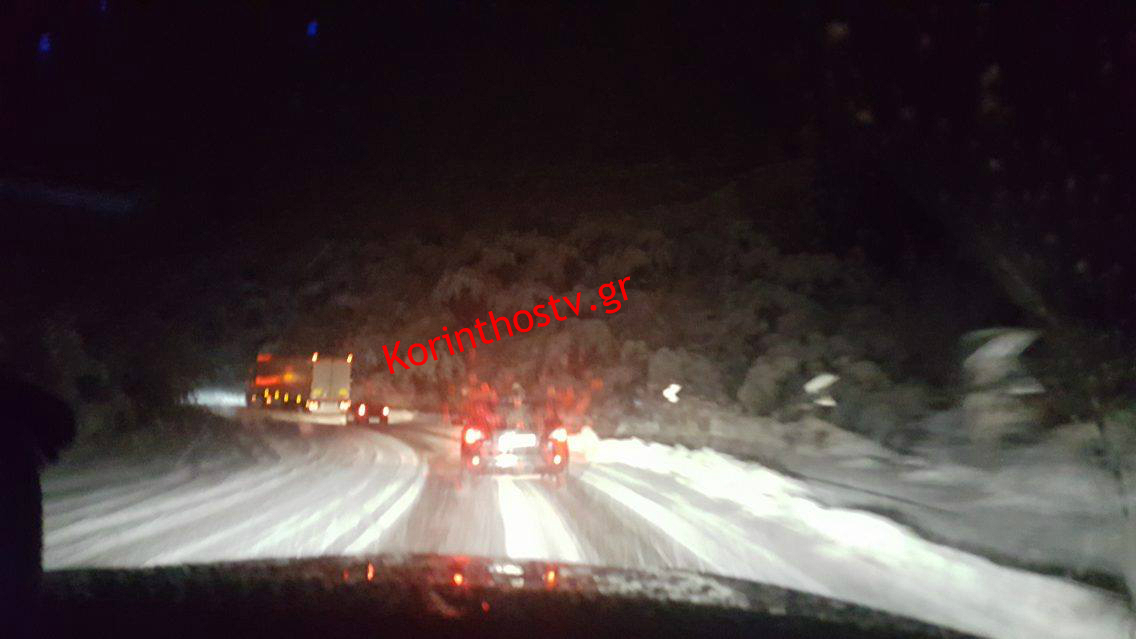 Dozens of firefighters moved to the area and offered drivers and passengers the option to either divert them or to transfer them to safe places until the snow fall was over and the highway again in operation. Priority were women and children. The majority of drivers refused the offer and stayed in their vehicles most probably swearing at the state and the highway operator and thus in this order.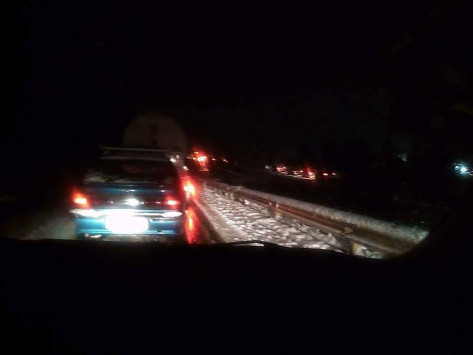 It is not certain that they followed traffic police and civil protection instructions to use chains for the vehicles wheels. According to Greek media, they did not.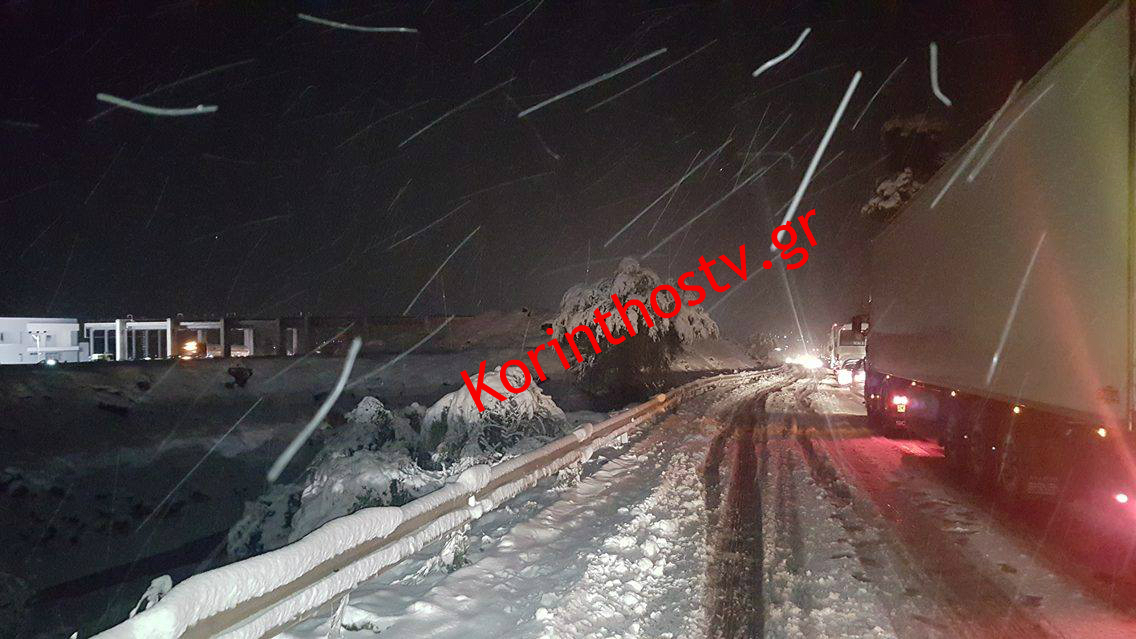 The highway operator promised to improve the conditions once the construction concludes.
Sunday noon, Traffic police banned lorries with more than 3.5t to move in the new Athens-Patras and the old Corinth-Patras highway as of 3 pm Sunday. The ban will be in effect until 8 a.m. Monday morning, Jan 9/2017.
A passenger train got stuck due to frost at the Larissa train station for six hours. The train Athens-Thessaloniki was supposed to leave the Larissa station at 4 a.m.
Snow is old port of Chania, Crete.
Snow fell also on the usually sunny islands of Rhodes and Crete.
Rethymnon, downtown
While meteorologist forecast little snow falls in the next 24 hours, total frost in expected in many regions, especially in Northern Greece.
In many areas in the North, Central, South Greece, incl Crete, schools will remain closed on Monday or start a couple of hours later. Please, ask locally.
PS As my father used to say: "When they close national highways due to 6cm snow, we will never be …Europe." – HA!