Three days after the deadly car crash that took the lives of four people, and Greece's traffic police continues the investigation. First findings from the highway security cameras reportedly show that the Porsche had developed a high speed of up to 250 km/h at many different points of its journey on the Athens-Lamia highway, long before the fatal crash.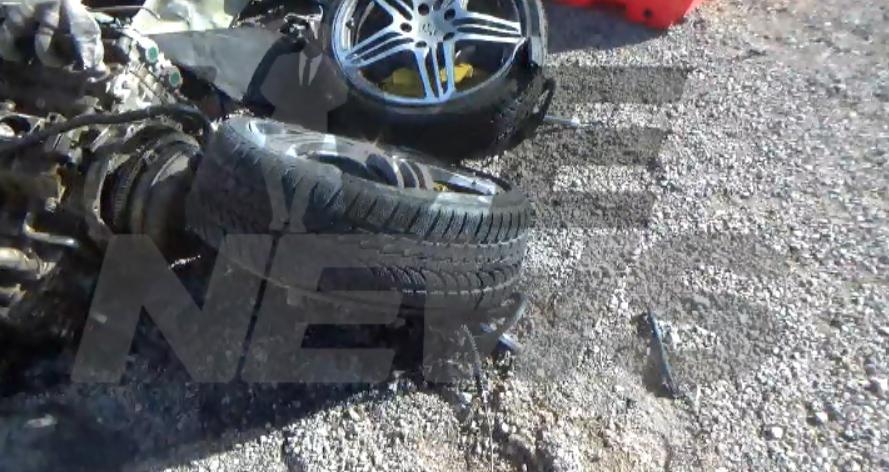 At the same time, several media report that the Porsche tires were winter tires adding that they were not :suitable for such a high speed. "Winter tires have a lower speed rating than normal tires," a news website wrote on Wednesday.
Citing a traffic police officer, another news website stresses that winter tires have a maximum speed limit of 120km/h to 150km/h and that they start to 'burn' if a car goes on a higher speed for long time.
There is speculation that one of the tires, most possible one in the back of the car went burst before it entered the parking lane.
An eyewitness said that tire parts were found before the entrance of the parking lane and even a part of the bumper.
Experts estimate after one tire was lost, "the Porsche touched the road, every control over the vehicle was lost,  it entered the parking lane on the side and crashed." 
According to pictures leaked to the press, the tires were eleven years old.
According to some media, "the Porsche entered the parking lane at a speed of 257km/h meaning that before that the speed was some 30 km/h more."
Sources told media that there was not aquaplaning on the highway, and they exclude this as possible cause for the driver to lose control of the car.
According to Proto Thema, although the security cameras had "captured" the Porsche to move at high speed of 250km/h none of those monitoring the traffic on the highway informed the traffic police.

Iefimerida writes that the footage from six security cameras showed that "the Porsche touched at several points 250km/h along with some lane change maneuvers." The news website notes that the car entered the parking lane at a speed of 280km/hour."

Police investigation is expected to last weeks if not months.
The Porsche driver, 24, was killed on the sport and so were a 33-year-old mother and her 3-year-old inside a parked Honda Civic. The second Porsche passenger was ejected from the seat and fell a couple of meter away. He was also killed on the spot.
Earlier on Wednesday, the mother and her child were buried together in the same coffin.

Please, drive carefully. If you do not care about your own life, think of the lives of others you put at risk. It can be your mother, your sister, your child…
Shocking accident with Porsche out of control: Four dead (video)