Anger, brawl, smash, sticks, stones, tear gas, sound flares, injuries, detentions. This is the picture at Vathis Square in downtown Athens on Wednesday morning, after hundreds of angry farmers from Crete set out to protest taxation and social security contributions.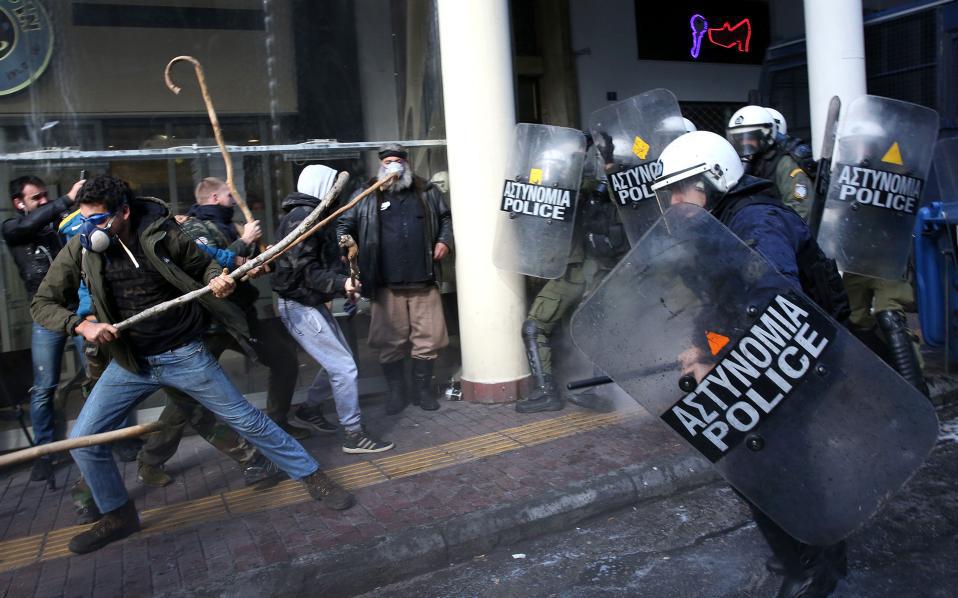 First, the farmers first got angry because of  the presence of the riot police in front of the Rural Development Ministry.
They started to break the windows of police buses with their traditional Cretan sticks.
Then, they got angry because ministry officials did not allow a group of forty protesters to enter the building and submit their demands.
When the ministry officials finally approved that a committee of 8 people meets with the minister Vaggelis Apostolou, the later poured oil in the fire telling them "Dialogue is one thing, bulling is another."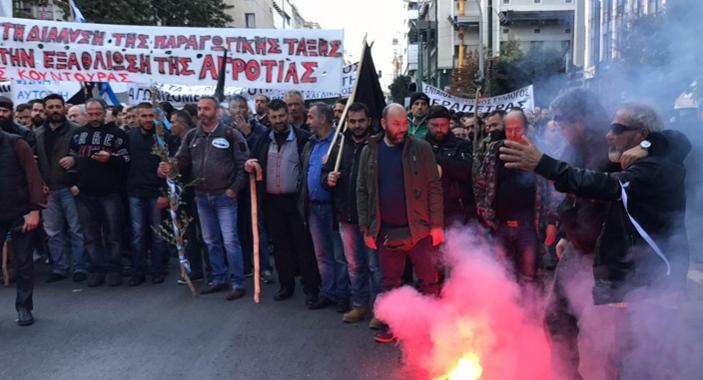 Protesters set also fire in garbage bins.
The Cretan protesters demanded further that camera crews from state ERT TV and Creta TV were present at the meeting. The Minister rejected the demand and the delegation left.
Riot police detained two farmers.
Now protesters demand their release and are about to march through Athens, allegedly to the headquarters of ruling SYRIZA and the Greek Parliament.
More than 1,100 farmers from all across Crete boarded on several ferries on Tuesday evening and traveled to mainland in order to join the Farmers' nationwide protest outside the Rural Development Ministry in downtown Athens on Wednesday.
Greece's farmers protest the recent increases in taxation and social security contributions that lead to higher production cost.
"We want Crete to light up the flame of the struggle and satisfy our demands," the farmers' representative Giorgos Chalkias said, adding the new measures will destroy the farming sector.
At some point, the farmers showed to reporters, the social contributions notification they had received and are obliged to pay.
"We don't have money to pay for these contribution," protesters said. Some shouted "they [the government] should take the money from those that has it."
Others chanted "Traitors!" and some urged the government "If you wear trousers, you should leave."
Short after 1 pm, the Cretan farmers started to march through Athens but refused to reveal where exactly they are heading to.
More pictures: newsbeast.gr, newsit.gr,