A boat carrying 22 refugees has capsized near the Kuşadası district of Turkey's Aydın province on Friday. Search and rescue teams have rescued eight people. They have initially found 11 bodies. The remaining three are reportedly still missing.
According to latest information, the number of dead has increased to 12. Among the drowned are five children and two women.
Two children and three women have been rescued.
Two Turkish men have been arrested after confessing that they had organized the transfer to Greece. The passengers were Syrian nationals.
Footage displayed on Turkish television networks show the bodies of the drowned people to have been washed out to the coast.
A number of ambulances were also dispatched to the coast.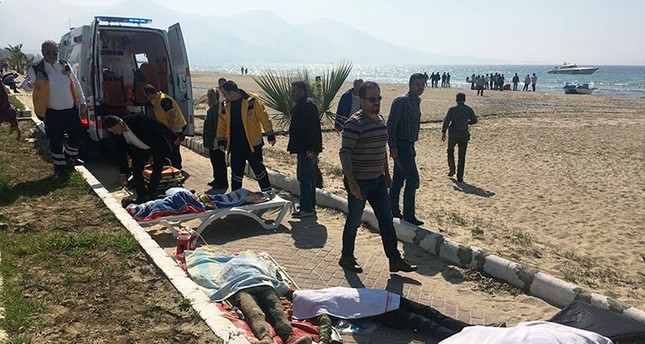 Video footage on Doğan News Agency's network showed half a dozen bodies after they were recovered from the water and laid out near ambulances.
Turkish television channel NTV said the migrants had been traveling in a rubber boat.
The Turkish smugglers have said that the rubber boat was heading to  the Greek island of Samos in the eastern Aegean Sea.
Search and rescue teams of the Turkish coast guard operate in the area.
The EU Turkey deal has halted the influx of refugees and migrants. However, people keep heading for Greece despite the difficulties to continue to Europe.
According to the UNHRC, a total of 3,629 people have arrived to Greece since the beginning of the year.
Arrivals increased in the last few weeks due to the improvement of the weather conditions. This is one of the estimations. The other one claims that Turkey is playing the refugee card against Europe. Ankara has repeatedly threatened to cancel the EU Turkey Deal after the Netherlands and Germany refused to allow the Turkish government to carry out Referendum rallies and campaigns.
However, based on recent statements by Turkish officials,  KTG has understood that Ankara will pick up the issue of the EU Turkey deal after the Referendum.