A student of Fine Arts was heavily beaten and seriously injured by what it seems members  of far right Golden Dawn. The attack occurred just hours after unknown assailants attacked a branch of the party in Athens on Friday morning.
Walking on his way home from the university, the 24-year-old passed by a cafeteria where Golden Dawn members are hanging out. They initially started to swear at him and ultimately stood up and brutally beat him.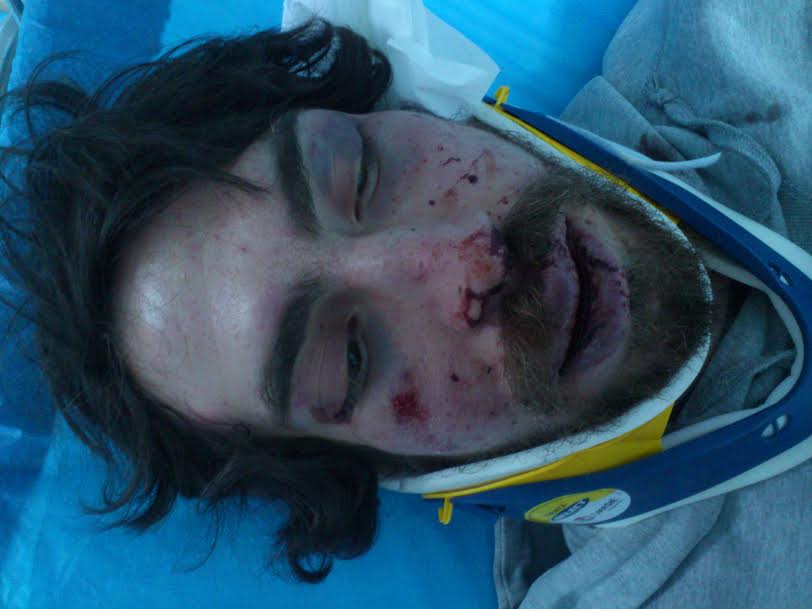 The young man was found by a resident of the area who called the police. The resident has reportedly watched the attack.
According to Greek media, because of his appearance (beard, back-bag) the GD members thought that the student was member of Rubiconas, an anarchist group that often launches attacks against branches of the far right party.
According to police sources cited by media, there no indication whatsoever that the young man was involved in the attack at the Golden Dawn office.
Police is awaiting for the victim's testimony. However, he is very seriously injured and not able so far to speak to the police investigating the attack.
Media speak of "blind retaliation" attack.

The brutal attack took place at 3 pm on Friday in Ellinoroson suburb of Athens.
The perpetrators reportedly stole the student's bag containing a camera, a mobile phone and several documents and fled.
Police continues investigation.
+++ State broadcaster ERT reported at 12 noon News bulletin that one man has been detained in connection with the attack. the 42-year-old has relations with GD. More details here
On Friday morning, a group of people wearing hoods and helmets and holding sledgehammers attacked a branch of Golden Dawn in Athens.
Several pictures of the heavily injured student were posted by Greek website bloko.gr covering mainly police and crime issues.