Prime Minister Alexis Tsipras inaugurated the 120-km section of the Corinth-Patras highway that makes the journey Athens-Patras possible in just 99 minutes.
"Today we are inaugurating a work that many believed would never be completed," the Prime Minister said adding that the highway "would never have been completed if it wasn't for the difficult negotiations with contractors and construction companies."
The construction work started in 2007.
The total cost of construction is 1.8 billion euros and the cost of land expropriations is 223 million euros, or 172 million less than the amounts originally demanded by contractors before renegotiation.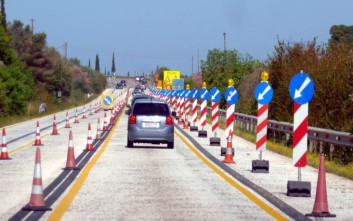 before…
Greeks described the old Corinth-Patras road as "guillotine" due to the many traffic accidents that cost the lives to hundreds of people.
The Athens-Patras trip will take 1h 40m after the completion of the work, which will create the prospects for further development in the wider region, he said.
"We are opening the road that was hindering the connection of Western Greece with the capital, we are opening the road to exit the crisis and supervision," Tsipras stressed, adding that this is the strong symbolism of the work.
Infrastructure and Transport Minister Christos Spirtzis, said that the project  started in 2007 and was only half finished in 2015 when SYRIZA came to power. He noted that the work had been bogged down by such an "incredibly tangled skein of obstacles, loose ends, problems and reactions" that it seemed unlikely to ever finish.
He noted that the project will be fully completed once a road toll system charging in relation to distance travelled is installed, lowering the cost of the tolls, and the Patras-Kalamata road is inaugurated.
The Olympia Highway has a total length of 202 kilometres, from Elefsina to Corinth and then to Patras and the Patras bypass.
The Corinth-Patras section inaugurated on Tuesday is 120 kilometres long, with two lanes and an emergency lane in both directions and 12 completed tunnels with a total length of 18 kilometres along its length.
One of the tunnels was named after the former PASOK founder and prime minister "Andreas Papandreou." Spirtzis said that Papandreou was a source of inspiration and so is Alexis Tsipras.
Spirtzis' comment triggered the angry reaction of  the Progressive Alliance, the successor of PASOK.
The minister was member of PASOk before he moved to SYRIZA.
PS The usual mean Greeks claim that we now have an official confirmation that SYRIZA governs hand in hand with PASOK.